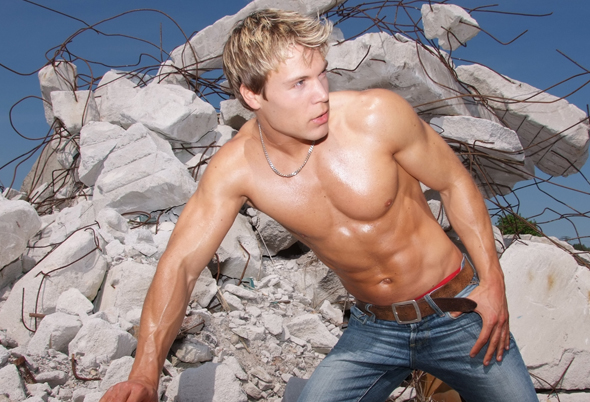 Twenty-five year-old Carsten Andersson, who hails from a small town near the German/Danish border, started his pop career as the member of boyband – eastbloc, which he was unceremoniously kicked out of when a friend leaked to the press he had appeared in gay porn movies. Since then he's moved up the porn star ladder but still likes to throw his vocal talents behind the occasional pop tune. His latest single 'FUN' is the product of a collaboration with British production team Zebra 1, who have had hits by Sugababes, Aaron Carter and Hear Say, so his ambitions are not only to be storming the adult movie DVD charts but also the world's pop charts.
It seems being a pop star and a porn star covers just about every gay boys fantasy… is it as good as it sounds?
I must admit… some times it definitely is. We had this fantastic shoot in Berlin with LucasEntertainment a few months ago, and the set was full of hot naked porn stars from all over the world, and I just found myself thinking "Is this real, or am I dreaming?" Sure, there are also days when you are stressed, bored or just in a surrounding that does not make you feel comfortable, but that's rare…otherwise I would not do this job anymore.
The Lucas Entertainment site says this about you:
Blonde, smooth and muscular he has a thick uncut cock and round perky ass that are both perfect for fucking! Carsten isn't shy about showing off his sex-pro skills on camera. This tri-lingual German stud loves deep rimming and his sexual fantasy is to get fucked by a biker gang! Carsten Andersson loves the gym, travelling and sensual massages.
So we ask… What are the drawbacks?
You must always realise that the sex you have on camera is not for your own pleasure, it's a job, and there is a high pressure on you. Time is money, when you are not doing good "work", the whole team gets a little stressed, which then puts you in a delay. Not always the best or most comfortable surrounding in which to get a hard-on within 60 seconds after the camera man shouts: "OK, we are ready!"
With your pop credentials, shouldn't there be a porn musical, a sort of "12 inches of Glee", waiting for you to star in?
Ha-ha…not at all! I am sure I would not be the best actor for something like that.
Would you appear in Glee if you were asked and who would you like to do a scene with?
I am not a good actor. When I shoot porn it's like "Take a look through the keyhole and watch Carsten having sex" what you see is the real me…that's how I have sex, there's not much acting in it.

Which current pop/rock star would you like to get in front of the camera for a heavy sex scene?
Tim McGraw is a hot dude…I love cowboy style, I love rough masculine guys and I love a man in leather…I mean he is not one of those dressed up leather-fetish fags, he just wears leather pants and jacket, because he is a rough guy who feels comfortable in it. That's what makes it so sexy…I am sure in bed he can be a real man.
Tell me about your pop career so far?
The pop career was just a crazy idea that I had, like so many other crazy ideas I have. It was more for fun and the fact that it finally ended up receiving quite a positive echo in the media, and even remarkable record sales in countries I had not even heard of before, surprised me and made me proud. However, I don't see myself as the new Elton John. I don't have the voice and…yes I totally admit that my song material doesn't really have the highest quality to become, or be, a long lasting serious popstar. It is…as the song already says, just for "Fun"
What are the plans with your new record production team – Zebra 1.
Zebra 1 are great! After I got kicked out of the kids popband eastbloc because of my porn past they said they would work with me again, which was a great honour, it made me so proud. The new production, which is going to be a cover version, will be produced by a team in Denmark, they are great guys too.

It says that for the next single you are going to be more controversial than Lady Gaga or Paris Hilton… what do you plan on doing?
Just living my life…that's going to be controversial enough…
Can Bent be there to watch… film…. take part?
Sure!! Whenever you guys want to…! He-he

What is the next single or porn feature… and when are we going to see you here in the UK?
As soon as my new single is out, I will definitely be touring across the UK, I had so many great offers from clubs in London, but not enough song material to perform a full show. Perhaps I should have filled the rest of the time with porn acting…? He-he. So I wanted to wait till I have more songs and then…guys get ready for Carsten Andersson… Live!
The single 'FUN' is out now and available from iTunes
www.carstenandersson.com