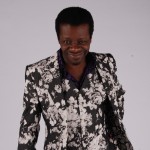 Direct from his own BBC2 series The Stephen K Amos Show and starring in BBC One's Live at the Apollo, Stephen K Amos is back on the road for 2011.
Following last year's hugely successful UK tour – where he played to 60,000 – Amos is back with his special brand of melt-in-the-middle comedy, to cheer us up, make us forget the doom and gloom and show what has just been medically proven, that laughter really is the best medicine!
Amos has charmed and entertained audiences all over the world with his easy, relaxed style, intelligent wit and honest warmhearted joie de vivre. The last few years have seen Stephen steadily become a household name – recently starring in BBC One's dance-off Let's Dance for Sport Relief, appearing regularly on The One Show and The Wright Stuff (C5) and guesting on Have I Got News For You(BBC One), Mock the Week (BBC Two) and Stand Up For The Week (Channel 4). He has also developed a keen interest in food and cookery following his hilarious contribution to Celebrity Masterchef (BBC2) and BBC One's Saturday Kitchen and is now much in demand on the foodie circuit.
A gifted actor, Amos has impressed audiences and critics with his performances on stage, and screen, and has proved not only a gift for comedy but also for more serious roles.  He was Sir Benjamin Backbite in RB Sheridan's farce The School for Scandal at the Edinburgh Festival 2009, alongside Lionel Blair, Marcus Brigstocke and Phil Nichol.  He has also starred in the critically acclaimed production of 'Talk Radio' at the Edinburgh Festival 2006, directed by Stewart Lee and he appeared in the West End and Edinburgh run of 'One Flew Over The Cuckoo's Nest', alongside Christian Slater.