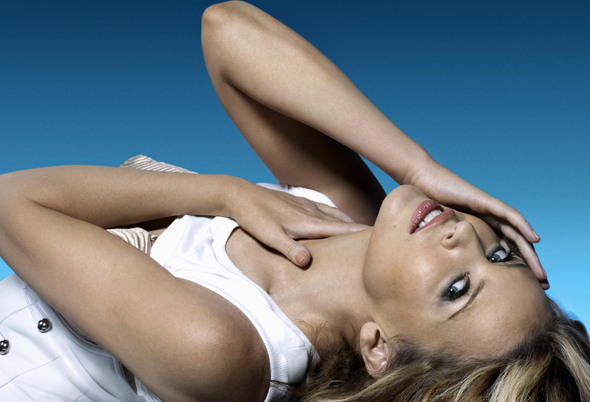 Back in 2002, Kylie Minogue embarked upon her KylieFever world tour– it was her 5th world tour and her biggest to date – breaking box office records everywhere, getting rave reviews and setting a new standard for pop concerts throughout the world.  That impressive show was followed by Showgirl in 2005, Homecoming in 2006/7 and most recently by KylieX2008.
Unbelievably each tour has been bigger and more spectacular than the preceding! Now, in 2011, she's on the road again with a brand new world tour.
Aphrodite-Les Folies Tour 2011 promises to break all previous records – the show is grander than anything you've seen to date! This incredible show was created by Kylie and William Baker, her long-time creative collaborator.
Rehearsals started in locations throughout the world before Christmas – Kylie is currently rehearsing with her new band in London; the dancers and aerialists are being put through their paces by not one but three top choreographers in Los Angeles; the tech crew are putting together the props and staging on the East coast in Pennsylvania and Montreal whilst the video team are furiously at work back in the UK. Phew!
The bespoke stage for the European leg of the tour (including UK) is the most technically advanced, complex and precision stage ever created for an arena. It features over a million moving parts, including 30 high impact water jets, rain curtains and fountains! The stage, alone costing over $10million, was built by Tait Towers, the largest staging company in the world, responsible for building stages for the Rolling Stones, U2, Madonna, The Wall etc. etc.
Kylie said today "Rehearsals are well underway and the show is shaping up to be more than I could have wished for. All departments are doing a stellar job and the combined level of expertise is nothing short of mind blowing. My friends, Dolce & Gabbana have designed an amazing wardrobe for me. I'm overwhelmed with the love and talent that is going into this tour and I can't wait for my fans to be part of it"
As anyone who attended any of the previous tours can attest – a Kylie show is not to be missed. Much more than a concert – a Kylie show is indeed a spectacular!