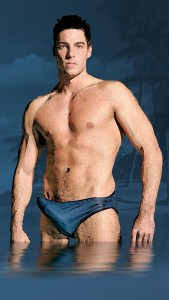 By Les Lea
Adrian has the biggest and thickest dick I've ever seen. Well I mean in real life, not some humungous thing that you see in some porn films that would scare the horses and make them feel inadequate. No… Adrian's is fantastic; straight, thick, hairless, un-cut and with a silky shiny bulbous head. He always knows how to show off his impressive bulge as his clothes fit him only to emphasise his groin. He's a good looking guy too but knows he has something special between his legs and, should that day come when his looks fade, his cock will always be there. He is so proud of it and likes to use it almost non-stop and, as his boyfriend, I can tell you that I get a great deal of work from its silky thickness. Mornings before he goes to work, evenings as soon as he comes in and nights before we drop off to sleep, his cock pushes and probes into each and every orifice, frantically reaching a friction induced climax that takes us both over the edge and near collapse.
He never gets tired of using it because he simply thinks that God has given him it for a reason and not to use it would be a sin. He is very definite in his ways. He knows what he wants and made it clear from the moment we met that he wanted me… and that I should be prepared for a sex life that rivals no other… and he wasn't joking then and still isn't. When we have threesomes, foursome or moresomes… I get off on the surprised look on whoever is on the receiving end of his terrific 'love torpedo' – my pet name for a thing that could cause a great deal of damage if not handled properly. I never feel jealous because I also enjoy the ideas he comes up with. I am proud of my boyfriend on so many levels and the fact that he always has enough energy to make sure I am satisfied is more than enough for me. Mind you, there are times when I could do with just a little less attention. Some weekends we never leave the bed and I find out just how inventive, forceful, imaginative and vigorous he can be. Work on Mondays are often a butt clenching ordeal as memories of what we've recently done, and how often, have left me sore, stiff and with the impression he is still firmly stuck up there. Yes, his 'Love Torpedo' doesn't just leave others devastated; I am often in the same boat, damaged but limping along hoping to find a safe berth. I'm making him sound selfish but he isn't really, it's just that I have never learned to say no to him. He treats me so well, we get along brilliantly and in all honesty, I love his huge dick. I love the fact that it's mine when I want it so, I have to accept that my butt is his when he wants it.
When we're on holiday and he's sitting by the pool or lying on the beach, his packed but ancient Speedos are always an attention grabber. I've seen both guys and girls injure themselves while peering at that tell-tale bulge while not looking where they're going. Even if he's dozing in the sun, his cock has a life of its own; throbbing and squirming around under the thin nylon. It seems the heat encourages it to do amazing things; pushing the fabric up or out, often trying to escape the waistband, outlining its considerable mass and becoming a hazard to those who just can not believe their eyes. I once asked him why he didn't wear the more trendy baggy shorts to the beach and he just smiled: "It wouldn't be half as much fun." He knows that it can become a real talking point and we've been followed back to our apartment on many occasions. The girls get a polite brush off, while the guys get to try it out for size!
It could change some for ever but most will never forget their 'Love Torpedo' experience.