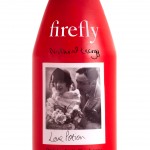 This special edition love tonic is just the thing to get hearts racing on Valentines Day for guilt free passion. Founder of Firefly Tonics Marcus Waley-Cohen admits "Love Potion is the single thing we are asked for more than any other edition". This tasty little aphrodisiac has been kept hidden for the last five years because people just got too frisky!
Love Potion is a saucy blend of Passionfruit, Blueberry and Jasmine with sensory botanicals Angelica, Chocolate and Damiana, all known for their aphrodisiac qualities.
The very limited edition range will be available from Harvey Nichols, Whole Foods, online at Holland&Barratt and other independent retailers until stocks last.