Cruising for the sex you want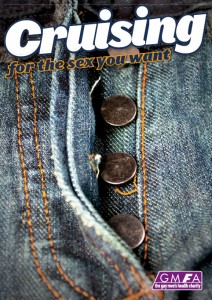 Do you find it difficult to approach men you fancy? If so, you're not alone. For lots of gay men, making the first move is scary – whether it's in a bar, club, sauna or a public place. Cruising online can be just as tricky. If you sometimes find it difficult to pick up men, or end up having sex you don't want, then look out for GMFA's latest booklet, 'Cruising for the sex you want'.
GMFA has included lots of tips on how to boost your confidence and develop your cruising skills. Staying safe and in control is important, so you'll find plenty of advice on talking about safer sex, asking for the sex you want, and saying no to the sex you don't want.
Matthew Hodson, Head of Programmes at GMFA, comments: "Cruising can be tricky for lots of men and sometimes they end up having sex with guys they don't really fancy – or having sex which isn't as safe as they'd like. We hope this booklet will help men overcome their fears when cruising, stay in control and stay safe."
'Cruising for the sex you want' includes advice on how to make the first move, start conversations, cruise online, and prevent the transmission of HIV and other STIs. There are also some comments from other guys about their experiences of cruising, some of which might be similar to yours.

You can also download it online at gmfa.org.uk/cruising.