The quite nice Sarah Millican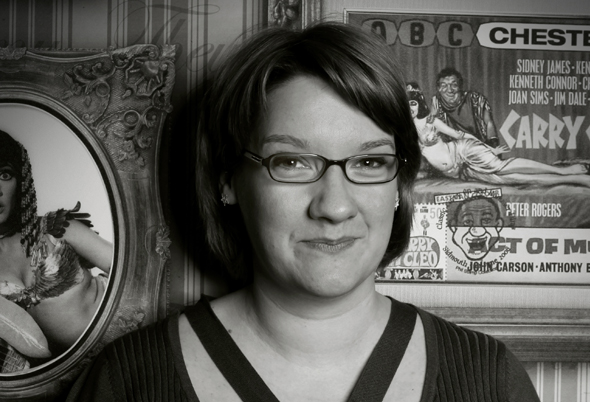 Since winning the 2008 if.comedy Best Newcomer Award for her debut solo show Sarah Millican's Not Nice at the Edinburgh Fringe Festival, Sarah is fast on her way to becoming a household name. A consummate live performer, she has notched up a number of appearances on top comedy shows including Mock the Week, Have I Got News For You, 8 Out of 10 Cats, Live at the Apollo and Michael Mcintyre's Comedy Roadshow. In addition, Sarah can be heard as a regular guest on the Radio 5 Live series 7 Day Sunday and has recently had a second series of her self-penned Sarah Millican's Support Group commissioned for Radio 4.
Were you ready for the success you've achieved?
I don't think you're ever prepared because you just don't know what's going to happen. Perhaps being prepared for the best of the worst… if it had happened when I was 21 then I would be terrified… and some of the things I still do are quite nerve wracking… but because I'm 35 I've been through scarier things… performing in front of people is never going to be as terrifying as finding out test results from family members… so, its still exciting and amazing. However, you've got to take it all with a pinch of salt, don't believe everything that's said about you.. otherwise you'd look a dick!
You've won awards for Best Newcomer but…is it all about the winning or just wonderful being nominated?
To be honest it's great to be nominated but Best Newcomer was amazing to win because… I really bloody wanted it. Laughs. At least I'm honest.
You came across as a nice lass but that first show was called Sarah Millican's Not Nice… what went… right?
Laughs. It's a kind of play on words because… well… I can be a bit of a cow and that's the angle I was coming in at… but the main reason it was called 'Not Nice' is because when we were little that's what we'd call our lady parts (laughs). Because when I was tiny and me and my sister were playing with our bits, mam would go "Stop… that's not nice". So it just sort of stuck. So, the audience thinks about me being a bit of a cow and having a go at my ex but then about three quarters way through the show… I let them in on the real reason.
Has your Geordie accent caused you problems when on stage?
Not really. I've played overseas as well as down south and I've just slowed down the way I speak and avoided using slang terms. If my mum hears me on the radio she'll phone up and say… "Oh you're posh now." Because I don't speak like that at home… but 30 minutes back together and the accent comes back as strong as ever.
You've been on several panel shows but is it a huge competition to see which comedian can get the most jokes…
Mock the Week is often a 2-3 hour shoot… so you can't be 'on' all the time though you try to be. The show is well edited so, if you can get 3 or 4 good gags in that feels good.
Does the BBC compliance rules affect what you say.
Well, the show is live in the studio and after the record it's a matter of the lawyer and the producers saying "Well that's not going in." (giggles) but it's funny for the audience, which is why they want to come to live recordings, it's like an exclusive little club… seeing things other's aren't going to get the chance to see or hear.
Your live tour is called Chatterbox… have you ever thought about going down the Jason Manford route… presenting not sending dubious text messages? Daybreak… they could really do with you?
Laughs. Oh bless you. No, not really thought about presenting although I have got several projects in the pipeline but, as always, I can't discuss them now.
A sit-com perhaps?
Not really, I wouldn't mind writing one, as I've been writing bits since I was 17 year-old but I don't think I'd want to star in one. I don't think I'm that good an actor… and I wouldn't be keen on saying other people's words. In my act there's a kernel of truth in all that I say… it's not made up… and I relate to it. I've tried acting. I wasn't convincing.
Are you aware that you have quite a large gay following?
Yes I am… and I love it. (laughs) Because I used to play some gay gigs at the Vauxhall Tavern… and I bloody loved those gigs… they were amazing. I mean, recently I was playing in Manchester and I was told there was a Bear Convention in town and I was asked if I knew what a bear was and I said I totally know what a bear is. Sometimes I feel like I'm a female, straight bear. Because I do like eating… and sometimes I've got a beard! If I was a gay bloke I'd totally be a bear… because they are so comfortable with themselves. I've got the beard… I've got the belly I'm half way there love. I mean, bears are like the cake loving sector of the gay community… so what's not to love?
Sarah Millican's Chatterbox tour begins on Jan 29 at Coventry's Warwick Arts Centre and runs until Apr 20, closing at The Forum in Barrow-in-Furness.
For more details please visit www.sarahmillican.co.uk