By Jason Guy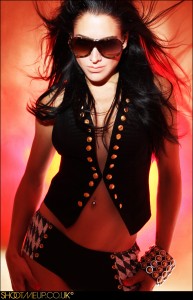 There's an irresistible passion that has driven Rae's elevation within the house scene. A shining light, hell-bent on blowing up dance-floors with her dynamic, tech-kissed DJ sets as she has evolved from collaborative artist to a vital star in her own right.
Rae is the voice behind Kings Of Tomorrow's 'Can't Stop', ATFC's 'Give Me Luv' and Sandy Rivera's awesome remake of Kosheen's 'Hide U' which is currently riding high in the club charts.
"My first single "Cant Stop" was my introduction as an artist & songwriter, coming into the house world… It was a real surprise to me to get so much love for my first release. This was my first collaboration with Kings Of Tomorrow/Sandy Rivera, we had a great connection."
Rae is a member of a small, illustrious group of artists who not only DJs, but performs live PAs of her tracks during her sets. "I'm lucky I can do both, in fact I feel very fortunate to have the opportunity to combine all of my creative arts and perform. It all goes hand in hand for me and it always feels amazing live. Lost in the set, mixing my track and singing it live, it's the best."
"For me it just makes no sense to be playing one of my songs with a vocal and not be singing it live. That's my thing, that's what I do and that's what I wanna be known to do."
With a very definitive style, fashion and image are obviously very close to her heart. "I love dressing up, hair and make up. I take inspirations from loads of places and put effort into my look. I have good days, bad days but for my gigs I always take time and make sure I'm gonna be happy on stage."
Why did Rae choose to recreate the Kosheen classic 'Hide U' with Mr Rivera? "The song takes me back to a great time in music, it was a club anthem back then and I am so happy to be bringing it back, I hope it hits the spot. Performing the song at Pacha Ibiza's closing party was a real moment for me. Amazing response. It rocked!"
Alongside 'Hide U', she's recently finished the 2nd CD for the 'Defected In The House Tokyo 2011' compilation, featuring a heap of her favourite records (including my own personal top Ibiza anthem – G Club's 'Guitarra G'). If you haven't had a chance to check this mix out, then I highly recommend it!
"I loved doing this mix, I wanted to put my sound across and add the elements that reflect what I'm about. It's a journey and I'm really happy with it. It's got the hands in the air moments, the under your skin vibe, takes you back but slams it upfront too, you got to listen and feel it…"