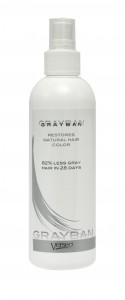 GrayBan is an exciting and innovative grey hair treatment that's set to revolutionise the UK beauty market by restoring natural hair colour and pigmentation.
The clear, odourless solution sprayed directly onto grey hair blends greys with natural hair colour – giving a flawless finish.
Hair that doesn't look 'dyed'and, the best part, using GrayBan means there are none of the tell-tale signs that you usually find with traditional at-home hair dye treatments.
Most people start seeing a difference after seven to 14 days of use. Clinical studies show natural hair colour restoration of 42 per cent after 14 days and 82.3 per cent after 28 days.
People with blonde hair with only 50 per cent grey have reported the most dramatic results but those with darker shades can expect to see some improvements.
GrayBan costs £19.99 but is currently on special offer at £15.95. Order online now from www.jdharris.co.uk