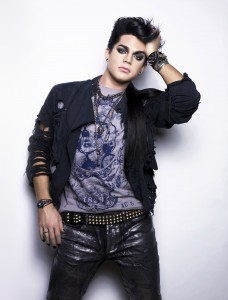 He dresses like a drunk gypsy. He sounds like a crackhead cabaret singer. But he electrifies like a Guantanamo torture expert. He is, of course, Adam Lambert. Woefully undervalued, and still one of only a few out gay performers in the States, he stands as a reminder of everything wrong with conservative America. But he's a bloody good performer.
Strutting onstage with all the swagger of an 80s rockstar, it was no surprise half the audience were as old as my dad, but the atmosphere was buzzing. There was a paucity of queers, which I hadn't expected, but everyone was so welcoming there were strangers holding hands and hugging. Lambert has definite 'rock star' swagger and I think it's this that gives him his fanbase. I did feel like I had stepped back in time.
Lambert's vocal skills are clearly unmatched by most. He has a range of god knows how many octaves, which he deftly slides through with shimmering panache. To say he has a range isn't doing him justice—it's more like a big, belting, rainbow-coloured spectrum.
My only gripe was that Lambert, who isn't half as famous as he should be, was only given the smaller O2 Arena in Manchester. The room was packed out, but it wasn't a Madonna gig by any means. The benefit of this was you could almost taste Lambert's sweat on your tongue and the entire show was given an aura of intimacy you can't get at a bigger venue.
Overall, I think Adam Lambert is an excellent example of how our music icons should be: smart, sassy, outrageously talented and unashamedly open.