Betty legs it to Newcastle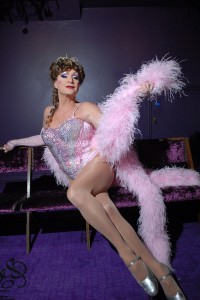 One of the countries best loved female impersonators has packed her stilettos and headed North to headline at a new £1.5m cabaret club.
Betty Legs Diamond, who starred for more than 15 years at the world renowned Funny Girls at Blackpool, is now the star of a brand new venue on Tyneside. Betty has choreographed and stars in the full stage production shows at The Boulevard, Newcastle, supported by a team of experienced dancers. Since opening its doors to the public in November the club – a former warehouse – has become a huge hit with audiences who have never experienced this kind of entertainment in the North East before.
Betty is a renowned entertainer and as well as her time as part of the Funny Girls, has appeared in many TV shows including Come Dine With Me, The Weakest Link (both of which she won) and From Guys to Dolls for One Night Only where she taught a group of builders how to become drag queens. She has also appeared on The Royal Variety Performance seven times.