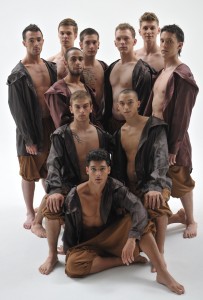 Ten remarkable dancers, handpicked from open auditions by artistic directors Michael Nunn and William Trevitt, star in this explosive feast of exhilarating dance, fused with the company's trademark use of film and behind the scenes footage.
The TALENT features a mixed programme of four works including a mesmerising re-working of Russell Maliphant's Torsion, Paul Roberts' haunting Alpha plus two brand new works commissioned by Sadler's Wells.
Founded in 2001, Balletboyz has established itself as one of the most original and innovative forces in modern dance. Led by former Royal Ballet lead dancers Michael Nunn and William Trevitt, the company has thrilled audiences and critics alike the world over with its distinctive style which blends spectacular dance with stunning music and film. In the TALENT, they pass the baton to a new generation of dancers in an evening of energy, grace and sheer talent.
2011 TOUR SCHEDULE
1st February, Richmond Theatre, London
4th February, His Majesty's Theatre, Aberdeen
8th February, Everyman Theatre, Cheltenham
10th February, artsdepot, London
15th February, Waterside Theatre, Aylesbury
18th & 19th February, Dance City, Newcastle
1st March, Theatre Severn, Shrewsbury
4th March, The Hawth, Crawley
24th March, Theatre at The Mill, Newtownabbey, NI
29th March – 2nd April, Sadler's Wells, London
Photo: Hugo Glendinning