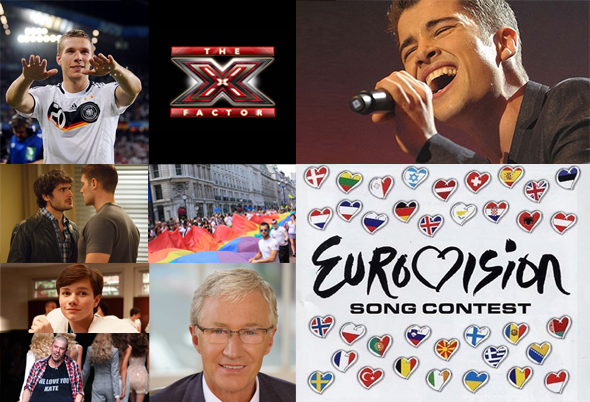 Has the past 12 months been a blur?  Can't quite remember your last snog, let alone who the Prime Minister is these days?  Well then check out this handy guide to ten important events from 2010!
OUT AND ABOUT…
Still not out yet?  Well don't worry, there's plenty of time for when you're ready, but in 2010 it was the right time for a few celebs to stand up and declare they were gay!  X-Factor winner Joe McElderry, Hollyoaks actor Kieron Richardson and ol' snake hips himself, Ricky Martin all decided that 2010 was their year to come out of the closet and we salute them for it.  Hurrah!
GOODBYE
In February it was a sad time for the world of fashion as we said goodbye to iconic designer Alexander McQueen who died at the age of 40.  With his striking style and fabulous collections, British born McQueen will be forever missed.
PAPA DOESN'T PREACH
One of the year's biggest US shows to hit the UK in 2010 was the all-singing, occasionally-dancing, TV treat that was Glee.  Throughout the first season there were many standout moments but the absolute highlight was the caring relationship between gay high school student Kurt and his father.  Brilliantly played by Chris Colfer and Mike O'Malley the show demonstrated how a guy's sexuality didn't have to come between a father and son.
SECRET LOVE
Another bit of TV that kept us glued to screens in 2010 was the ongoing saga between Christian and Syed on Eastenders.  With more twists and turns than a ride at Alton Towers, the drama kept us going for weeks as we waited to see what would happen when everyone found out that they'd been doing it!
BRINGING SEXY BACK
Like an ex that just wouldn't get the hint, in 2010 it was once again time deal with the return of the snooze-fest that was the World Cup.  Thankfully most of us were far too preoccupied to think about ball control as the Sex and City girls returned to cinema screens for their glamorous movie sequel!  Not only did it allow us the chance to imagine we could be just like Samantha, but it also saved us from having to explain the offside rule.
CHUCKLE VISION
In May it was Eurovision time again and singing for our nation's dignity at the 55th annual event was 19 year-old Josh Dubovie, with the Pete Waterman produced entry That Sounds Good To Me.  Unfortunately, it didn't sound good to any other countries in Europe and poor Josh came last.  Oh dear, we still love you
PARK LIFE
With the rain threatening to ruin the summer and many boys up and down the country clutching a half incinerated sausage from the family barbeque, it was down to the annual Pride events to cheer up the chaps.  Many events took place up and down the country, but it had to be pop princess Kelis' performance on the main stage in Manchester that took the crown for being the most memorable.  With far too many boys wanting to get a glimpse of Kelis' milkshake, safety officers quickly closed off entry to the stage area to stop things getting a little bit cramped.  Undeterred, numerous guys and gals climbed up to the roof of the nearby NCP car park so that they didn't miss out.
JUST VISITING
In September Pope Benedict XVI visited the UK and although some people were happy to see him, things didn't go down too well with the gays.  Before his arrival the pope condemned gay equality in the UK and so during the pope's stay 10,000 people marched around London to protest the state funding of his visit.  It's a shame really as he seemed such a jolly fellow when he appeared briefly in musical comedy Sister Act (1992).
YOU GIVE ME FEVER
August saw the arrival of the seventh series of The X Factor and as the television behemoth returned to screens, it did so with the usual mix of hilarious hopefuls and unbelievable acts.  Eventually the finalists were whittled down to a mammoth sixteen and amongst the likes of Wagner, Tesco Mary and jail-bait boy band One Direction came the dynamic duo, Diva Fever!  Craig Saggers and Josef Al-Smadi may have been booted off after just a couple of weeks, but for a short spell they brought some much needed sparkle to Saturday nights!
WE'RE HERE AND WE'RE QUEER
2010 also proved to be the year that the gays took over TV with both Graham Norton and Paul O'Grady  moving their chat shows to primetime slots!  Not only was it a great step forward for us gays, it also meant there was something worth watching after Corrie on a Friday night.