We answer to Nick and Steve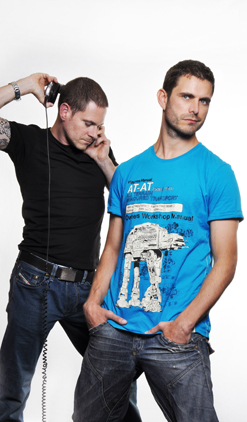 We answer to Nick and Steve
by Jason Guy
Nick Tcherniak & Steve Thomas are two of the most in demand DJs on the UK's gay scene. Individually, their residencies have set dance floors alight from Cream and Vague, and SuperMartxe and DTPM. As a partnership, their creative talent has received growing support from some of the world's top players.
Most famously, both artists have a strong association with legendary London gay club night, Trade, and it's fitting that the first live PA of their latest track, 'The Answer' took place at Trade's 20th Birthday event, earlier this year. "It was packed with clubbers," said Nick. "In every room. An electric atmosphere and a true journey though sounds. In short – it was 'Rockin'!" "Bloody marvellous," adds Steve, "everyone had such a good time!"
They first met in Ibiza 10 years ago, when they were sharing an apartment while DJing at Manumission. Steve explains, "we have always liked the same sounds so it was an obvious move to work together." It was a few years later before they decided to collaborate though.
Nick's sets are famed for their cutting edge tech house and progressive beats, laden with a tribal influence. "My sound is slightly tougher than Nicks'", says Steve, "we get a nice journey in our sets."
The Answer EP was out at the beginning of November and is the pairing's first track signing to Jason Phats' GEEK label and features a quality driving, progressive groove, with dark stabs. The sinister spoken vocal 'The Answer', balances the ethereal vocals perfectly delivered by Lizzie France. 'Take The Pill' delivers a bouncier, percussive groove, but keeps the edginess with a dark, distorted vocal demanding 'Take The Pill'.
Few would dispute that Jason Phats can spot a quality tune when he hears it, and the chunky progressive groove of 'The Answer EP' represents the type of flawlessly produced, dark, dancefloor sound that GEEK is developing a fast-growing reputation for delivering. Jason commented "Steve Thomas and Nick Tcherniak know exactly what it takes to move a dancefloor. We're proud to have them on board and I can't wait to hear what comes next."
What future gigs can you catch these two at? "I've just played SuperMartXe's 2nd Anniversry at Debut, London Bridge, "says Nick." Upcoming gigs include Jungle at Club Mad Lausanne, Switzerland for New Year's Eve and the Jason Phats Digital launch party including Fat Boy Slim, Steve and myself… can't wait for that!"
Steve nods, "I was in Spain with Wally Lopez for a while and also at SuperMartXe's Birthday was awesome. Off to Sydney for NYE and Asia for New Year – yeehah! We're also working on new stuff with Lizzie – she is great. We have some exciting tracks ready for the New Year already but I am desperate to do more."
Nick Tcherniak and Steve Thomas 'The Answer EP' on Geek Records is available to download now.