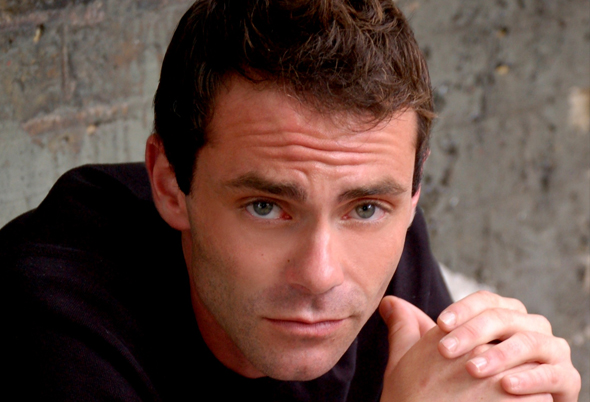 From the acclaimed team that brought you the hit gay thriller Shank, 'Release' is an explosive drama about violence, abuse and budding love behind walls of a hellish prison. The film's star is ex Emmerdale hunk Daniel Brocklebank who plays Jack Gillie, a young priest convicted of a serious crime who has to deal with the intense and overpowering atmosphere behind bars.
Your first starring role on stage was in a production of 'Lord of the Flies' was this not an intense introduction to drama?
Absolutely! At 15 I was one of the eldest in the cast. I remember having a wonderful time on that production. It was such an honour to be part of something so special, and you can't get a better start to your career than a leading role with the Royal Shakespeare Company! We were well supported throughout the production, being provided with weekly massage and aromatherapy to keep us relaxed. It was very hard work but I loved every minute of it. To be working with such amazing people at such a young age
helped immensely with such dark subject matter.
Tell us about your part in the movie RELEASE?
Jack is a really good guy. He's completely selfless. Everything he does is for other people and comes from a place of love. The extreme hardships that he has to endure really put him to the test mentally, emotionally and physically. It was a really hard shoot. We had quite a short schedule so were often working 16 hours a day or more. The crew were amazing and although the films content is very serious we managed to have a real giggle at times.
It's a scary scenario – young people in prison. Did you get any understanding towards young offenders and what did you have to do to prepare for such a role?
The reasons for Jack imprisonment are quite individual so I studied the emotional side effects quite a lot. One thing I discovered was that of course every prisoners journey is different. There was no right or wrong way to react. I felt it was important to give him a quite strength. Garry Summers and I bonded well during the shoot which really helped.
What did you think of your character in Emmerdale?
I enjoyed Ivan very much. Unlike other jobs where you play a character for maybe a few months, Ivan and I were part of each other lives for two years so you grow very attached. As time goes on and more scripts are written you learn more and more about the character. I really enjoyed the complexities of playing someone bisexual who was having difficulty coming to terms with his sexuality. I had many letters from people saying I'd helped them and made it easier for them to come out. That was really nice.
Are 'soaps' as much hard work as they say… not much time to rehearse etc?
Soaps are bloody hard work! On a movie you'd maybe shoot five minutes of usable film a day. The Emmerdale team shoot on average thirty a day. If you were in all the episodes for that block your feet would literally not touch the ground for two weeks. When I first joined the show I was shocked at how fast we had to work. I definitely gained a new found respect for people working in the genre.
You've played opposite some very influential leading ladies and actors, in your film career. Was there anyone you were intimidated by?
Of course. Some of the people I've worked with I've either grown up watching them or admired their work for years, so when you meet these people for the first time it's always a little bit mind blowing. I think Judy Dench and Meryl Streep were the two I was most nervous to meet. However, both were so very lovely to me. I've been so fortunate to have worked with so many incredible people over the years. I've always tried to learn as much from them as I can.
You have gained quite a large gay following… is this something that pleases or worries you?
Are you kidding me?!? I love it.
What are we going to be seeing you in next?
I've another two movies out after this one. Age of Heroes (with Sean Bean & Danny Dyer) a really great World War 2 movie and Little Deaths, a really dark horror. I did a bit on the next series of Waterloo Road earlier in the year, I've also just finished shooting Casualty as a new heart surgeon which was great fun, and I've just done a guest spot on Eastenders. That was really exciting! In the next week or two I'm about to start shooting a new 4 part series for the BBC but I can't say too much about that yet. It's been a busy year thinking about it!
Photo: Paul Schnaars