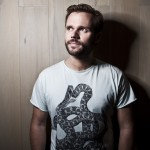 Love it or loath it the 90s influence is filtering through…especially in dance music, slowly replacing the retro-disco sounds with early house beats. German producer Tensnake is leading the way in the 90s revival, while riding the wave of hysteria that surrounds his most recent production 'Coma Cat'.
"I started buying vinyl in the 90s. I was really into deep house and vocal house. This was around the time I started going out, to big raves and house clubs, so it was the most important period in my life, musically wise."
So, why does Tensnake think the 90s are now back in vogue? "It's because music is like fashion. It's all coming back again because people hear a certain sound and you get excited by discovering new sounds. It used to be easier to talk about the 80s. But now people are fed up with the 80s!"
Riding high in the club charts for the past few weeks. 'Coma Cat' is destined to cross over into the mainstream over the coming weeks."I just tried to capture the Summer feeling", he explains. "I came back from Miami, feeling very relaxed. A light, relaxed and happy feeling. I'm also working on a new album, which I plan on finishing around March next year."
'Coma Cat' it out now on Defected Records.