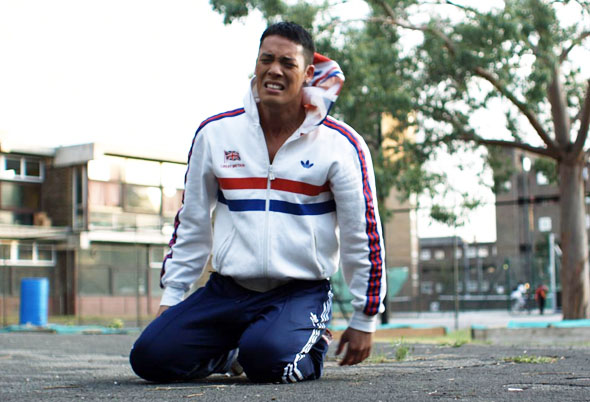 "FIT – Stonewall's film for schools – is an intelligent, powerful and entertaining film. The storyline uses hip-hop, humour, colourful Adidas tracksuits and lively writing similar to Channel 4's Skins to communicate with pupils in a way that makes it easy for them to engage with the issues raised."
One of the characters in FIT is a bully with a secret Ryan, played by out and proud actor Stephen Hoo. Lee Hudson wanted to know more about this good-looking young rising star so stalked the lad and posed the questions.
How did you get your part in FIT… what was the audition process?
I was in the stage version of FIT which toured all over the U.K before it was made into a film. I was so chuffed to be asked back to be in the film version and so I didn't have to audition. I did get to see the audition process for some of the other actors which was really interesting. Rikki ( Beadle-Blair writer/director) wanted passionate people with a vested interest in the subject matter.
Had you any dealings with bullying either at home, at school or perhaps on set?
When I was younger I bullied other kids who I thought were gay as a way of deflecting from the fact that I was gay myself. This is exactly what my character Ryan does in the film. It's a control thing. A power thing.
How do you feel about your character?
I feel sorry for Ryan. He has no support. He's grown up in an environment at school where he is made to feel ashamed of who he is. Like many schools in the world the subject of homosexuality is one of disgust, otherness, humour and homophobic language is wide spread and a term of abuse to anyone regardless of the recipients sexuality. While that dynamics exists he feels the only way to survive is to be secretive and try and blend in with his surroundings. In doing this he is utterly conflicted, unhappy and becomes an oxymoron of sorts.
When did you come out?
I came out to a friend when I was about 15. I remember physically shaking uncontrollably and feelings sick.
Stonewall have invested a great deal of their reputation on this film… have you ever done any campaigning before?
No. I knew of Stonewall but had never had any dealings with them until I became involved in FIT. I think the work of Stonewall is so great and the work they do is so vital. I'm so proud to be involved with them. They have done so much for the cause and continue to do so. I'm so proud of them.
What do you feel about the various Gay Pride events that blossom all over the world?
I think it's only a good thing. Celebrating the rich diversity of the world is only a positive thing that expresses tolerance. But don't forget that many countries still don't have constitutional rights or support LGBT people. There's still a long way to go. In some countries that allow gay pride events they are met with violence.
Have you been to any Prides… if so… which is your favourite (and which would you like to go to)?
I've only been to London, SOHO and Brighton pride … I'd love to go to some pride events in other countries though for sure!
Are you in a relationship?
Why are you asking? You want my number? Do you like me?  I'm FIT right!!!!   What? I'm not?   Have you seen me? You must be dizzy blud!
What (or who) is your ideal partner?
Look if you like me just ask me out already! No but seriously though. Someone who looks like Joseph Gordon Levitt but with the brain of Noam Chomsky! Am I asking too much?
Is there a part you would do 'anything' to get?
I am a huge Trekkie … I would die to be in Star Trek. I always wanted to be Wesley Crusher.
What are we going to see you in next?
I'm in Rikki Beadle-Blair's hilarious comedy KICK OFF coming out very soon. It's about a gay team and straight team and all that ensues.
Final question: What style and brand of underwear do you prefer?
Okay… this is the truth. I like really plain Y-fronts!  Flashy labels and brands don't do it for me. I find brands garish! But plain briefs? Oh YES!
FIT is in the cinemas from 5th November
---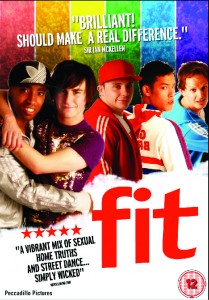 FIT
Karmel likes make-up and trendy clothes, yet she also likes girls. Does she need to 'fit' the lesbian stereotype? Ryan is one of the lads. Computer games, beer and bullying are the name of his game, yet a secret crush on fellow pupil Tegs threatens to blow his cover. Isaac, meanwhile, uses muscles and a hot head to threaten his schoolmates with violence should they display a gay attitude in his vicinity. It is down to loud and proud drama teacher Loris and his pink leotard to show these kids that they share a lot more in common than they first thought.
FIT is the feature film adaptation of Stonewall's highly successful play for schools aimed at tackling homophobic bullying, seen by more than 20,000 students around the UK.
Out: 22nd November – £14.99– Peccadillo Pictures
To be in with a chance of winning a copy of this groundbreaking DVD, just answer this simple question:
Where in the USA was the original Stonewall Inn situated –a. New York, b.Chicago, c. Miami
Bent Magazine Prize Draw Terms & Conditions
1. The prize draws are open to UK residents aged 18 and over. 2. No purchase is necessary. 3. Only one entry per person is allowed and multiple entries will result in an entrant being disqualified. 4. The deadline for receiving entries for the competition is the last working day of the magazine's month. 5. Winners will be notified within 28 days after the competition closes. 6. Proof of delivery or email will not constitute proof of entering the prize draws and no responsibility will be accepted for lost, corrupted, delayed or mislaid entries. 7. The winner(s) will be the first valid entry drawn at random. 8. Bent reserves the right to substitute the prize for another prize of equal value. 9. There are no alternative cash prizes. 10. Bent Magazine's decision is final and no correspondence will be entered into. 11. When you enter a prize draw, your details will be used to provide you with updates, information and promotions from Bent and other members of APN Ltd. You can opt out at any time by following the Unsubscribe link on the bottom of every email or by sending an email to unsubscribe@bent.com asking to be removed from our mailing list. 12. By submitting an entry, all entrants acknowledge and accept these terms and conditions. By taking part in any prize draws or competitions, you agree to be bound by these rules and the decisions of Bent Magazine which are final. 13. Bent Magazine reserves the right to disqualify any entrant and/or winner in its absolute discretion for any reason and without notice.