40 Years of the Gay Liberation Front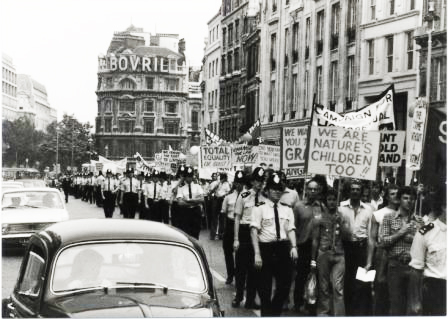 In the autumn of 1970 a tentative meeting of 19 people took place at the London School of Economics to form the UK version of a movement that was taking the USA by storm – the Gay Liberation Front. Born out of the riots at Stonewall, the GLF in America had mobilised thousands of gays, lesbians, transgendered, transsexuals and interested others to march, make a noise and complain about the injustices meted out to homosexuals.
That small group in the UK quickly grew and one of those at that meeting was a young Peter Tatchell. As he reported in a fantastic look back at the history of the group in the Guardian he said.
"I was an activist in the GLF, aged 19 with long curly hair and living in Shepherd's Bush with my 16-year old boyfriend, Peter Smith. I was student. He was a budding jazz guitarist. The age of consent for gay relationships was, at the time, 21. Our love was criminal and we were both at risk of imprisonment. We didn't give a damn. We despised and defied the law."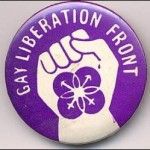 He went on to say. "GLF espoused a non-violent revolution in cultural values and attitudes. It questioned marriage, the nuclear family, monogamy and patriarchy – as well as the wars in Vietnam and Ireland. Although against homophobic discrimination, GLF's main aim was never equality within the status quo. We saw society as fundamentally unjust and sought to change it, to end the oppression of LGBTs – and of everyone else."
In those early days getting coverage in the media of any protests on the grounds of sexuality were pretty difficult. Even huge gatherings of protest and support were met with indifference in much of the main press and television but the fight continued.
"We queers subverted this conventional gender system." Peter Tatchell recalls why the straight majority found GLF threatening. "Gay men love other men and many of us are deemed inadequately macho. Lesbians love other women and tend to be less passive and dependent on men than most of their heterosexual sisters. Queer males don't have to sexually subjugate women and female queers have no need for men to fulfil their erotic and emotional needs."
Since those heady early days the work of GLF has spawned groups like Stonewall and Outrage! Despite there still being many inequalities remaining in the UK, we have made significant progress in gaining some 'gay rights'. It's a term that many people object to, usually because they are already privileged enough not to have to contend to a day-in day-out barrage of discrimination or abuse but GLF, back in 1970 sowed the seed of defiance, non-acceptance and change that is being carried on to this day 40 years later.
Well done to those early pioneers… our thanks for starting the struggle…you did good.
For Peter Tatchell's full article go to:
www.guardian.co.uk/commentisfree/2010/oct/12/gay-liberation-front-social-revolution