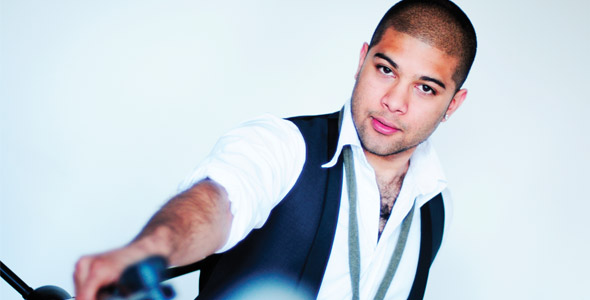 Rajiv is truly a unique talent – Sexy, funky and utterly gorgeous but don't take our word for it, listen to any of his tracks, take a look at his lovely pics and you'll see what we mean.
A unique blend of Mauritian and Trinidad descent Rajiv has an appeal unparallel by many other artists – this combination of Caribbean and Asian influences is evident in his music with influences of both R'n'B and pop and could be the reason why BBC'S Asian Network DJ – Bobby Friction dubbed him as his 'Future Friction Artist of the Week' recently.
His debut single 'Back and Rewind' (out 1st November) is an infusion of pop and R&B beats, topped off by Rajiv's smooth, heart-felt vocals, oozing sex appeal and a steaming hot video to match, this catchy track is guaranteed to get your toes tapping in no time. Cool, funky and undeniably infectious, it's no wonder it's already a massive hit on social networking sites! The 24year old already boosts a growing legion of loyal fans who have supported and enjoyed watching the talented Essex lad blossom and grow into a soon to be superstar.
He's got the voice, the personality and by god he's got the looks to win every female heart in the country and his honest and likeable character will make him a hit with the lads too – He' currently laying down more tracks with critically acclaimed producer, David Brant who has had successes with the likes of Mis-Teeq, Liberty X and Nate James.