DVD & Interview: Is it just me?
Nicholas Downs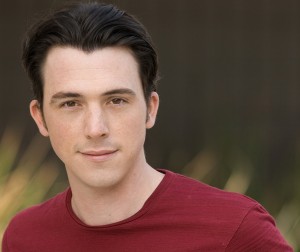 It's a question we have all asked at some time or other when the direction our lives take has an unexpected turn or the problems we've faced seem to be the result of forces beyond our control… who is to blame or, "… is it just me?" American charmer, Nicholas Downs stars in one of the best received gay movies of recent years, the rom-com, not surprisingly called, Is It Just Me? in which he appears as Blaine, an unaware cutie desperately in search of love. Bent caught up with the man who has previously appeared in mainstream movies such as Pearl Harbor, The Girl Next Door and Constantine amongst others and asked what made him want to become an actor.
It chose me!! HaHa! Just kidding, but that would be funny if that was just my answer. It's always been something I've loved and wanted to do. Now having the privilege of being able to do it and make a living at it, is truly a dream come true.
You've appeared on stage, on TV and in movies, which medium do you prefer?
Great question. They are so different and I enjoy each of them. TV is a great experience, when you guest star on a show or work a day or two, it's a very quick process. Film, when you have a lead role is a much more involved process. I love doing film, the inter-workings, the process, the arc one can create for a character within it. But theatre is our mother art form for acting. It's been around the longest and I love being on stage having that curtain go up and being 'on' for 2 hours. Nothing like it!
Is there any role you've played that you wished they'd made a spin-off series of the character because the part was so good?
Honestly, this one. I could totally see a series made from Is It Just Me? and I would love to explore where Blaine goes next.
Is It Just Me sees you playing a gay man looking for love… does this have any cross-over in real life?
I'm not looking for love, I've found it, 7 years strong.
How was the relationship on set with your co-stars?
I love my co-stars. David Loren (Xander) Adam Huss (Cameron) Michelle Laurent (Michelle) Bruce Gray (Ernie) Bob Rumnock (Bob) and Ronnie (Lynne Chaille) were so amazing to work with. All such talented and devoted actors and the crew were all terrific. They all set a tone on set that helped everyone come together and just work everyday in a nice, safe, uninhibited environment.
Have you used the internet at all to find a partner… or is it just there to check out what's on Ebay and Amazon?
I've dabbled a time or two in the past, but it's been a while…mostly use it to check my Facebook or update a site. Boring stuff like that. I do find an occasional headshot of mine for sale on Ebay though… one I've sent to someone as a fan and now it's for sale on there… that's always funny. Hopefully they are making some money off of it…
Who is your favourite hero of all time?
Well people like Harvey Milk come to mind, and Ian McKellen, people who stood up before it was being done and said this is who I am and it doesn't change anything. I'm still a politician, an actor, a human. Also, I've always thought Hawkman from DC Comics was awesome. I've always thought it would be cool to have a pair of wings.
What is your guilty pleasure?
Not sure how much of a guilt pleasure it is, but I love Man vs.Wild, Bear Grylls.
Who would you kill to perform with?
Ian McKellen, hands down.
Describe you perfect partner?
His name is Nick and we've been together for 7 years.
And a question we ask all our interviewees… what style/brand is your favourite underwear?
Whatever's on sale but a nice trunk cut does nicely.
---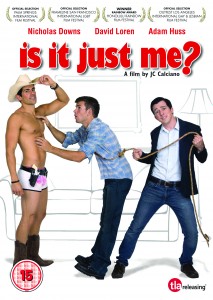 Is It Just Me?
One of the funniest and sweetest gay romantic comedies in years, Is It Just Me? delivers a refreshingly witty take on one gay boy's search for Mr Right. Cute Blaine can't seem to meet guys, let alone form a relationship. His beefy and promiscuous go-go boy roommate Cameron can't understand why he doesn't pounce and enjoy some one-nighters. Instead, Blaine hides away and searches Internet chat-rooms for a kindred spirit. He may have found one in the form of Zander, a shy recently relocated Texan. But when the time comes to exchange photos, Blaine accidentally sends an image of his hunky roomie and the budding romance takes a confusing turn! Out Now – £15.99 – tla releasing
To be in with a chance of winning a copy of this DVD, just answer this simple question:
Complete the title of this social networking group – __________book?
Bent Magazine Prize Draw Terms & Conditions
1. The prize draws are open to UK residents aged 18 and over. 2. No purchase is necessary. 3. Only one entry per person is allowed and multiple entries will result in an entrant being disqualified. 4. The deadline for receiving entries for the competition is the last working day of the magazine's month. 5. Winners will be notified within 28 days after the competition closes. 6. Proof of delivery or email will not constitute proof of entering the prize draws and no responsibility will be accepted for lost, corrupted, delayed or mislaid entries. 7. The winner(s) will be the first valid entry drawn at random. 8. Bent reserves the right to substitute the prize for another prize of equal value. 9. There are no alternative cash prizes. 10. Bent Magazine's decision is final and no correspondence will be entered into. 11. When you enter a prize draw, your details will be used to provide you with updates, information and promotions from Bent and other members of APN Ltd. You can opt out at any time by following the Unsubscribe link on the bottom of every email or by sending an email to unsubscribe@bent.com asking to be removed from our mailing list. 12. By submitting an entry, all entrants acknowledge and accept these terms and conditions. By taking part in any prize draws or competitions, you agree to be bound by these rules and the decisions of Bent Magazine which are final. 13. Bent Magazine reserves the right to disqualify any entrant and/or winner in its absolute discretion for any reason and without notice.