Roll over Gran Can, make way Sitges! Adrian Gillan has his Spanish preconceptions shattered in surprisingly gay, bloke-brimming Benidorm!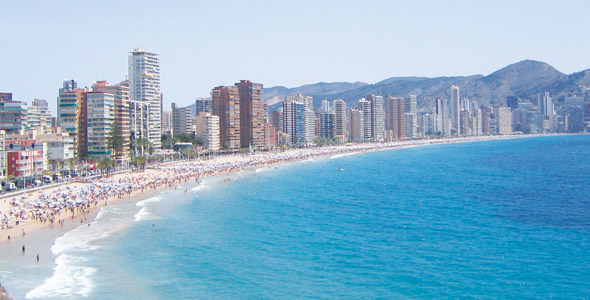 Main hub of the Costa Blanca, in the region of Valencia in eastern Spain – a tiny finishing village until the jet-tourist boom of the 1950s and 60s – now-70,000-populated Benidorm rests, perched on the Med, attracting gay male mariners from far around. Colourful and brash – still a cross between Blackpool and Las Vegas at heart, with more hotel beds than the entire of Greece put together – it is, however, now going upmarket in places, as well as re-injecting youth culture amidst a generally aging client-base, plus rediscovering a present-day quintessentially queer flavour, notably around the so-called 'Old' Town.
TO STAY
Hotel Presidente (Ave. de Filipinas; T: +34 965 853 950; www.hotelesbenidorm.com) – Gay-wooing, mere minutes from sand, scene and sights.
TO EAT
Restaurante El Barranco (Calle Vincente Llorca Alos 14, Playa de Poniente; www.barrancoplaya.com) – One of the finest eateries, on posh Poniente beach, overlooking the sea, out towards Benidorm's dramatic off-shore island. Does wonders with rice and all-things-fish!
TO SEE 'N DO
5 beaches – Not just famous Brit-brimming Levante, but also equally huge, more upmarket, for-the-locals, Poniente; plus tiny, sheltered Mal Pas, in between them, at the foot of the 'Old' Town; plus two more secluded stretches a tad north-east of the main sandy drags. All of 'em dead clean!
Eng-er-land – All-day bacon-n-eggs, beamed-in Premiership matches, tabloid-selling stalls and enough beer to burp at: Benidorm wouldn't be Benidorm without us crazy Brits!
'Old' Town – 'Old' mostly hardly predating the 1950s, in truth, but a warren of gay-bar-brimming smaller streets nonetheless, not to mention the wonderful rocky Mirador del Castillo vantage point, jutting out to sea, from which to spy each main beach on either side, along with Benidorm's famous hotel-high-rise sky-line, plus majestic hills out back!
Segway Tour (www.costablancatour.com) – See both main beaches effortlessly on a Segway, plus hilly 'Old' Town in between, whilst turning every head en route. A right boy-babe magnet!
Medieval Tournament (www.desafiomedieval.com) – Fun dinner-show-disco, full of hammy knights-on-horses and homo-erotic jabbing 'n jousting, 15 minutes by car outside of Benidorm!
TO BOOZE 'N CRUISE
The gay scene revolves around the 'Old' Town – and, to be honest, involves an almost exclusively male, slighter older crowd, but no less fun for that. Many bars have dark rooms, and there isn't really a dedicated dance club. As ever in Spain, you'll still need a disco nap to reach nocturnal synch – then dinner from 10pm, bars from 1am! There are over two dozen gay venues, so here's a mere taster…
Bars
Refuel Café (Calle San Pedro 10) – Mainly daytime Poniente joint, good for meals and snacks.
Kafee Klee (Calle del Pal 9) – Buzzing café, with drag acts that fair sprawl out onto the streets.
Viva (Calle Alicante 41) – Cruise bar.
Lovers (Carrer dels Quatre Cantons 3) – Youngish cruisy bar with cabins and darkrooms. Heaving.
Mercury (Calle Alicante 10) – Bar with good dance space.
People (Carrer de la Santa Faç 29) – Modern bar, likewise with dance area.
Sauna / Sex Club
H20 Sauna (Tomas Ortuño 46)
Outdoor cruising
Dove Park – Old town end of Poniente, by night.
Playa Racó del Conill – Nude beach 2km towards Alicante, by day.
OTHER USEFUL CONTACTS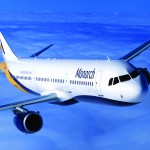 Award-winning low fares airline Monarch offers flights to Alicante (45 mins by road to/from Benidorm) from Birmingham, London Gatwick, London Luton and Manchester airports with fares, including taxes, starting from £46.50 one way (£76.99 return). In addition to year-round low fares, Monarch also offers a unique range of tasty hot and cold meals that can be pre-booked or purchased onboard, with prices from £3. Seats can be pre-booked at £7.50 per one-way flight, to avoid the last minute free-for-all experienced on some other airlines; or, for only £15, extra-legroom seats are available, which offer up to six inches of extra space. Passengers travelling on scheduled flights can also avoid the queues at the airport and take advantage of online check-in which is available between seven days and 4 ½ hours prior to departure.

Spanish Tourist Office: PO Box 4009, London , W1A 6NB; 020 7486 8077; info.londres@tourspain.es