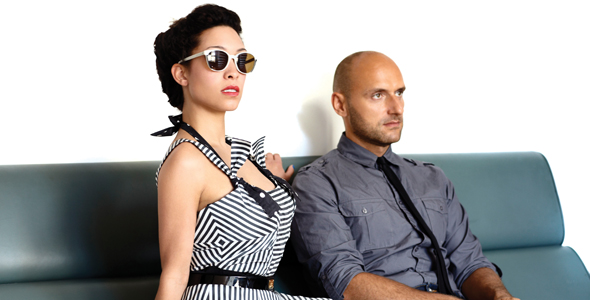 In the infamous court case of Max Mosley against the News of The World, Woman E was the pseudonym given to the dominatrix with whom Mosley allegedly had Nazi themed sex. Taking influences from her sordid story and the deepest darkest corners of dance pop, Woman E plan to shake things up a little.
The band use keyboards, drum kits and stroboscope flash lights, and can be found strutting their stuff on either a big stage as a five piece or as a duo somewhere in the early hours of the morning performing in clubland, armed with a mic and a backing track. The band is formed of: Ria Berlin (vocals), Uwe Doll (keyboards, production, song-writing) and Steve Rooney (drums). The band's early recordings, found their way to French Vogue's radar, voting them one of the best fashion records ever.
Ria, is a born and bred Londoner to South African parents while Uwe Doll aka DJ Oovermatic is from Berlin who, as well as writing and producing, plays the keyboards and the trumpet.  Few and Far Between is a blend perfect pop track reminiscent of the late eighties, early nineties, citing musical influences such as Kraftwerk, Heaven 17, Pet Shop Boys, Leonard Cohen. When asked how to sum up their music they normally respond with some sort of juxtaposition: "decadence and decay" or "melancholy disco", but ultimately they say, if you strip away all the smug adjectives, it's really just pop".