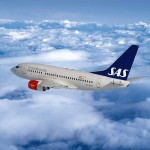 SAS Scandinavian Airlines is hoping to host the world's first same-sex wedding in the air onboard an Airbus A340 between Stockholm and New York on December 6 this year. To find the couple, the airline has launched a major social media campaign, Love is in the air (www.flysas.com/love).
Once logged on couples can create a profile and upload either a video or photos along with a presentation, which others can then vote on. For the best chance to win, couples are recommended to share their profile with as many friends as possible via various social media sites such as Facebook, Twitter and YouTube, in order to increase the number of votes. The couple with the most votes will then marry in what will hopefully be the first same-sex wedding onboard a commercial flight.
"Airlines, including SAS, have organized weddings onboard flights for decades, but we would be the first in the world to organize a same-sex wedding in the air. SAS is the national airline of three of the world's most liberal and progressive countries in the world, especially when it comes to LGBT rights, so we feel this is a natural celebration of love," says Robin Kamark, Chief Commercial Officer, SAS.
The lucky couple will win Business Class return flights with SAS to New York, three nights' luxury accommodation in New York, flights to Los Angeles, three nights' luxury accommodation at the Andaz Hotel, West Hollywood, and a glamorous West Hollywood honeymoon experience.
To enter a profile or view other couples, please go to www.flysas.com/love