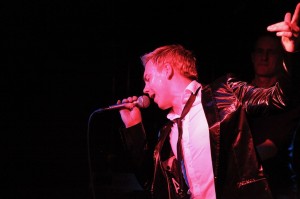 Since winning the UK National Songwriting Competition, things have accelerated pretty fast for John Galea who has already been lined up to write for Adam Lambert's second album. Gaydar Radio has got behind his latest single 'Boys and Girls' and every one is predicting this talented artist is the most exciting musician to come from the UK gay community for a long time.
You won the UK National Songwriting Competition, how did that make you feel?
Amazing!! There were so many great tracks in the competition so to have won with such amazing judges like Jonathon Shalit who found NDubz and Stuart Newton really was a big honour
For how long have you been writing songs?
Since the age of 12, My Dad brought home an Electric organ one day he found and I learnt how to play moved on to piano and began writing songs.
Who are your song writing heroes?
Max Martin, Diane Warren, The Bee Gees, Red One, there's a few lol.
Your voice and style is very upbeat… is this by design or is there a dark side to Mr Galea?
There always two sides to a coin, I have a lot of modern slow temp tracks too but I love writing upbeat music because I love to dance .Tracks like Propaganda Lover have a darker message to them as well as being upbeat.
Rumour has it you will be writing for Adam Lambert, how did that come about?
I've been in the studio recently writing a lot and had a few new Electro tracks that I thought would suit Adam and his style really well so we got them cut and forwarded to my manager who passed them on.
You have a song called Girls or Boys… what's your preference?
I like all my songs ;)
You've done Newcastle Pride… how did that go and do you have other appearances at Gay events/venues… perhaps a tour planned?
It was amazing and I want again to thank the amazing organizers. The crowd was amazing and the response was great. It was the first Pride event I have ever done and I cant wait to do another one again, hopefully I will be free for London's next year!
When is the next release planned and what's it about?
At the moment I'm busy in the studio working on some new tracks, and promoting Girls or Boys. My track Trendsetter is being recorded by an artist based in L.A as well so it's a busy time for me at the moment.
OK, final question we ask every Bent interviewee… describe your favourite undies?
My black D&G's
Photo: SimonGoodwin.com