Forget Camping, Let's Go Glamping! – By Simon Savidge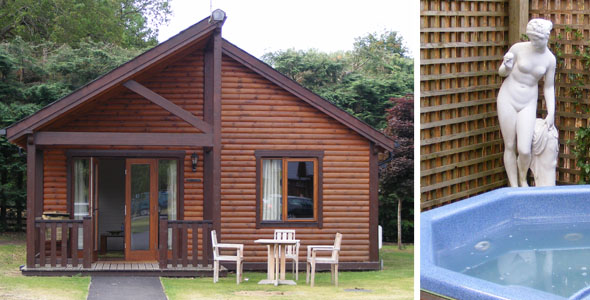 If your idea of camping is sitting bored and miserable in a field, stressing about tent-poles and the like then have you thought of a glamorous equivalent that is becoming very popular… Glamping! Simon Savidge found himself in the depths of a wood in Surrey to find out more.
Despite what many people may say… I am not big on camping, although my other half is. In fact the thought of pitching a tent and cooking beans on a portable stove anywhere at all fills me with dread and may make me come out in some sort of rash, not forgetting being bitten to death by mosquitoes. Yet, the alfresco lifestyle is one of those things that seem to be completely engrained into the British psyche: 'Oh its summer – lets go camping'.
Not for me the lone frontiersman pitching a tent, hunting for food and cooking his meal. No, I'll leave all that sort of thing to Bear Grylls. What I need to rough it is – a nice power shower, a memory mattress and all mod cons and that is what you get if you stay at Tilford Woods… with no fear of bears… unless you've invited some hairy chums of your own of course.
Surrounded by stunning woodland (which has been used in many feature films including Harry Potter) you arrive in what is like a secret hidden log-cabin community. The lodges are equipped with all the home comforts one would expect in an upmarket holiday home. The complex even has a pub, which of course is most desirable, especially one that does gourmet food so you can forget all that camp stove rubbish.
The cabins are available as three bedrooms, twin or one bedroom (which would be perfect if you're looking for a secret lovers retreat). These not only come with a Jacuzzi bath, four poster bed and your own private sauna…. there are also hot tubs perfect for two in their own private secluded garden. It really has the wow factor that should impress your partner on a weekend away. Try telling them they are going camping so they get a real surprise when greeted with this glamorous way of communing with nature! You can also come back looking stress-free and smug telling everyone how 'camping' is such a doddle.
For the sports lover, Tilford Woods is well placed to offer a wide variety of local activities including horse riding, mountain biking and fishing to name a few, but it is the glorious countryside that will have you enjoying the pleasures of an English staycation. So whether it's a snug retreat for two or a jolly weekend away with your mates, this is the perfect holiday that's not too far from home… and civilisation.
Simon stayed in Tilford Woods www.tilfordwoods.co.uk which is part of Darwin Holidays www.darwinholidays.co.uk who also provide luxury caravans for those of you who want to head to the beach. You can look for more camping (for the mad side in you) and 'glamping' holidays around the UK by visiting www.pitchup.com