Circuit Festival 2010 – by ChrisGeary.com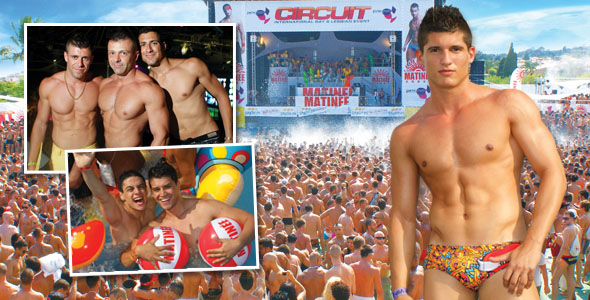 Europe's biggest gay & lesbian event and one of the world's best gay festivals.
9 days of parties… 31st July – 8th August 2010
Barcelona is a beautiful city with spectacular old and new architecture, plus some fantastic gay beaches to relax and enjoy the eye candy during the hot daytime sunshine. This amazing city, along with the circuit parties, makes an incredible fun gay week, an event not be missed. 70% men and 30% girls; 55,000 people packed Barcelona to celebrate, holiday and party in Matinee Group's 3rd edition of Circuit Festival, with 35 parties and 20 daytime activities to explore. Matinee Group is the leading promoter company in the Spanish market of night leisure. Created in Barcelona 12 years ago, it's a young company with an innovative spirit.
One of the biggest and unique events is the water park gay day & night. Held at Illa Fantasia Water Park on Tuesday 3rd August. The water park opened at 10am filling up very quickly with some of the worlds sexiest boys, dressed in just small Speedos. Water slides, themed area's, rides and the main pool with the funky house tunes of Matinee's best DJ's, all baked in the hot Spanish sunshine. Twelve hours later the day finished with a spectacular fireworks show. Then the party continues through the night in the water park's massive theatre complex. Most boys just stay in their trunks and dance till the sun comes up, making an incredible day and night to remember.
The main event party was held on Saturday 7th August at the Olympic Basketball Stadium. An incredible event packed with 10,000 party people, more than 50 dancers and performers on stage and the best music from DJ's Peter Rauhofer, Phil Romano & Enrico Arghentini; plus special guest PA diva Rebeka Brown. It was truly huge. Other popular parties were hosted from Brazil The Week, Supermartxe, WE pool party, Blackout Party, Mega Woof, La Leche, Devotion, special Bear men only parties, Girlie female only parties and of course the famous Souvenir afterhours parties.
During the day the main gay beach of Barcelona is "Mar Bella", a place to hang out, chill, soak up the sun and check out the boys. HYPERLINK "http://www.lorenzo.chiringuitogay.com/" http://www.lorenzo.chiringuitogay.com. About a 40 minute drive away (35 kilometres) is Sitges, a popular gay holiday destination, and also host to a couple of Circuit Festival beach parties at the L'Atlàntida beach club. The famous Spanish party island of Ibiza is also just a short boat ride away and the destination for many international travellers to continue onto after a mad week at Circuit Festival.
Circuit Festival web site: www.CircuitFestival.net
See all the photos and video at www.ChrisGeary.com