Porn Star: Deangelo Jackson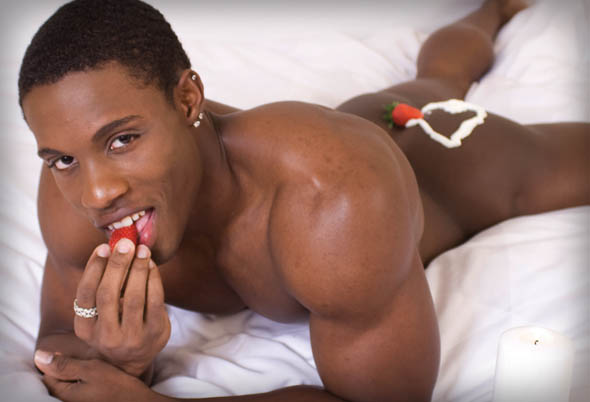 Earlier this year we were lucky enough to be invited to the Hustlaball in London where we met some incredibly sexy people and a host of horny porn stars. One who particularly made an impression for his friendly openness was newcomer Deangelo Jackson who had recently signed for US porn label Flavaworks. We asked him what he thought of making personal appearances and what it was like being new to the porn business.
We loved seeing you at Hustlaball… are these events good for you?
I do enjoy meeting and greeting the fans… I do have a good time over all.
How did you feel in your first scene on your first adult movie?
It was extremely nerve-wracking. First of all… I'd never done anything with a guy … this was my first experience… and in front of a camera and I didn't know what to expect. Once I got into the groove of it… it was OK.
What did you have to do?
It was a little oral. I had to eat out an ass. I was the top of course but I was completely new and didn't know about tops and bottoms but I knew what I wasn't going to do and that was bottom. So, I did a combination of a few different things.
What made it better for you?
I was actually attracted to the person I was doing the scene with… we had chemistry… that made it easier for me. He was very relaxed and cool and everything went of smooth but I didn't get along with the other porn star.
The guys you shag in Mixxed Nuts 2 are white, does this make a difference?
No not at all… I actually enjoy diversity
What do you have to think about to make a scene work for you?
I just go into the zone. The best thing for me is to clear my mind and focus and get into position, make sure I can be seen by the camera … focus on what I'm supposed to be doing… that's all you really can do… otherwise it's not going to be a hot scene
What turns you on about a guy?
His eyes, smile, figure and personality.
Is there any fetish stuff you'd like to do?
Strapped down. I'd strap someone down and have my way with them sort of thing. I think that would be hot and it's something I'd want to do… all cuffed and tied down and starting off innocent… a massage… and then…!
You say you're only in this for the money… is that coming your way from the movies or from other business opportunities?
A bit of both… but mainly from the business opportunities.
You can see more of Deangelo in his latest DVD offering MiXXXed Nuts 2 – Flavaworks