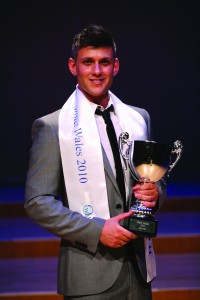 An openly gay man from Cardiff has taken the title of Mister Wales 2010 making history in the competition as the first ever gay man to be crowned Mister Wales.
Andrew Western, 22, a health and safety advisor living in Cardiff recently competed against 20 other men from across South Wales at St David's Hall to be given the title of Mister Wales.  He was judged by Mister Wales 2008 Jonny Rees, Big Brother winner Brian Dowling, Gladiator Amy Guy and 'Over the Rainbow' finalist Sophie Evans.
Andrew said: "I am completely overwhelmed about winning the title and have been buzzing all weekend. I am really proud to stand up and represent the gay community in Wales and show them just how cosmopolitan the Mister Wales competition is and that nowadays competitions like this are open to men from all ethnic and sexual backgrounds".
Mister Wales is not a bodybuilding contest, it is about finding Wales's most desirable man. The organisers are not just searching for someone with great looks, they need to have style, charm, intelligence, charisma and should be between 18-30 years old.
Entries are already open for the Mister Wales 2011 competition. www.misterwales.co.uk