Johan: A question of sex!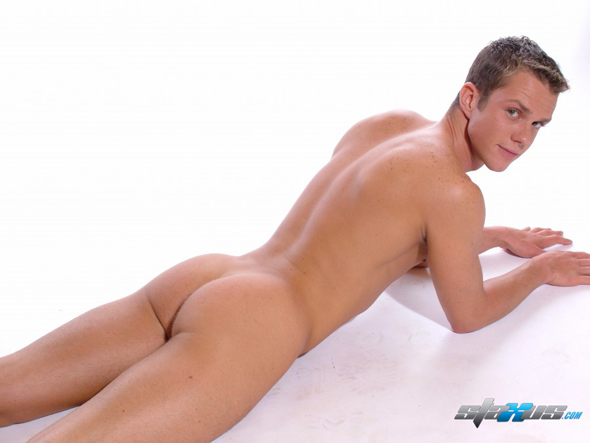 Thanks to the World Cup the last four weeks have been really horrible for our adult entertainment industry, since nobody has been interested in sex. Instead, everyone's been watching football, with sex only taking place during the 15-minute break between the two halves of the game!
Exactly the same has happened to me on a personal level. I've hardly had any sex for the duration of the World Cup, with the exception of some wanking whilst enjoying erotic fantasies of those sexy, horny, sweaty players!
As a result, I've saved up quite a bit of spunk and aggressive sexual energy to get me through the next few weeks, which are all set to be full of scenes that I have to produce as an active actor for my next movie and my own internet site. No question about it, my partners can expect a hard ride because almost 4 weeks without a fuck is a really long time for me and I sure as hell need to make up for things right now!
Sexual abstinence is most definitely NOT my cup of tea! I've really missed my regular fucking sessions, not to mention my scenes in front of the camera. Indeed, I'm quite surprised to have to admit it, but I've even missed being the bottom for my friend!
So watch out my site  www.Johan-Volny.com as I'll be uploading all the new scenes regularly over these weeks!
Meanwhile, as Bent's Euro porn god gets his dick into gear (and anyone else available) we ask him to give us the ten most asked questions by his fans.
What is the biggest misconception people have about you?

People often think bad of the porn industry. They think it is dirty and not professional but that is the old porn. New porn is very professional. Some people often have bad opinion of me, that I am just a wild animal, that I am stupid and only fuck around. But that is not the truth…. I hope!
How often do you have sex?
I have sex 5 days a week, including some shootings (but excluded my wankings) – so I think I am still horny enough
What do you regard as the sexiest part of a man's body?

For me the sexiest part of a man is his arse, then maybe dick and belly.
Which type of guy do you prefer?
My ideal looks like this: 20 year-old, blond, blue-eyes, sporty, muscular, not too slim, natural guy… and must be full of energy. I don't like queens and princesses.
Which sexual positions you prefer in private and front of the camera?
In both I prefer to be top. But in private I am also versatile… especially for my boyfriend I like to be bottom, too. In front of camera I've only been bottom a few times.
Is there any difference between private sex and your porn career?
Of course! In front of camera it should be possible to see feelings, but there you can only play at it because you have to pay more attention to setting, lights, camera and crew. In private you have more time for really nice sex, and you don't pay attention to a script or screaming from a hysterical director.
Is shooting porn a pleasure for you, or do you make it only for money?
I am happy that I can select my scenes and my partners in the movies. So the sex can be really fun and I totally enjoy it, especially when there are on expensive locations. So, when you then get money for having fun – what could be better!
Which actor is your favourite and why?
I really like Brent Everett. I think he is damn sexy!!! I only met him one time at some erotic fair – but I never had sex with him! Czech actor George Basten is really cute and great fun. He is small but with a huge cock – not a bad combination!
Do you remember your best experience on a shoot?
I like that I can have sex with guys in front of a camera which I would never find in my private life. I remember that in the night after I had a scene with some really great guys we did it also in private in our hotel. Actually that we the best threesome I ever had in my life. I won't give any more details here… porn actors can be discreet.
What can you advise people who want become pornstars
Be smart, select a big studio with a very good reputation, use your cock AND your brain, don't make porn only for money and always give your best.