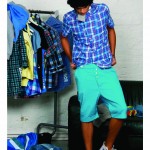 Getting a sense of…
Humor is a kind of fashion LEGO providing the bricks that allow you to create your own identity, thus never becoming boring or predictable. That's why these funky colours and patterns work well for just hanging or partying.
£45 Top, £50 Shorts | Stockists: 0203 358 0030
---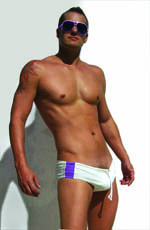 Hot and new from the USA
Tim Wildman, the man who pioneered the male enhancing underwear craze with the original Ball Lifter®, has created a new collection of Wildmant briefs and swim gear that he promises will turn heads in the locker room and on the beach.
"We've all spotted that one person on the sand that made us think 'Good God, what is he wearing'," said Tim. "We created this summer's line for that guy: the wild man who is untamed and unashamed."
Wildmant launched in 2008 with the Ball Lifter®, a soft elastic band that rests under a man's genitals, lifting them up and pushing them forward. The simple technology created the fullest package possible while maintaining style and comfort. It was heralded as the "Wonderbra for men" and launched a new revolution in male support garments.
Made from a breathable, body-conforming polyester stretch fabric, this summer's wildmant swimmers are available in square cut, bikini, and low-rise bikini. They come in an assortment of candy-inspired colors including Cyan Blue, Purple, Green and Yellow.
---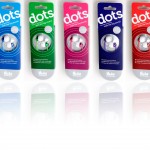 Sounds Green
Visionary multimedia brand Radiopaq announces the launch of their diminutive, dynamic designer dots. – an outstanding, affordable range of metal earphones packed with great features to enhance the audio experience for music-lovers of all tastes. Trendy and designed for flaunting in seven funky colours.
£15
---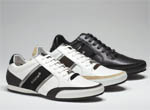 Smart or casual
Bamboo A is a London based born brand of hybrid shoes.  Bamboo A design comfortable smart-casual shoes with a well-groomed city edge of fine design.
£65 – Omega