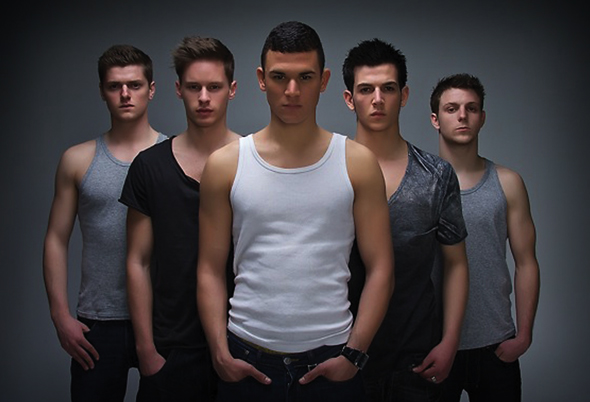 Bent is a keen supporter of boybands. We love every aspect of these glittering youthful creations and always look forward to the day when they pass over into pop credibility. Not all such confections have the necessary singing and dancing staying power but that is simply the injustice of an ever changing and fickle pop world. However, some look like they'll be around for more than that 15 minutes… let's have a look at the latest band tipped to be the UK's next hit boyband, InJu5tice.
Inju5tice are the brainchild of legendary record producer and songwriter Ian Levine who has worked solely on this project for the last year. His previous accolades include the production of hits songs for Take That and Blue. You could say writing and producing for boybands is in his blood!
Harry, Chris, Luke, Matt and Kyle all replied to a MUSTHAVEIT Productions advert in The Stage Magazine and after being handpicked out of the many hopefuls, InJu5tice were born. From day one it has been clear the boys have all the right qualities to fulfil their pop star potential with big voices and the moves to match.
Meet the guys:

Matt – 20, his relentless energy, street demeanour and infectious liveliness makes Matt one of a kind, in addition Matt's incredible break dancing skills are always a show stopper.
Tell us a secret: I won a comedy award in panto!
Which male star would you like to date: Michael Buble, he's got an amazing voice or Bart Simpson
Favourite brand of undies: I don't really mind, no pants though, only boxers.

Chris – 21, prides himself on his cheeky smile, brooding eyes and unintentional hilarity. Chris grew up  performing and is most at home when on stage.
Tell us a secret: I was Mr Wales!
Which male star would you like to date? Alan Carr because he's sexy haha… Leonardo Di Caprio…….. maybe
Favourite brand of undies: I've got some nice Calvin pants, and some Spiderman ones!

Luke – 21, describes himself as a bit of a geek, since graduating from Nottingham University, having studied business and marketing Luke returned to his true calling of being on stage.
Tell us a secret: I've got a Business Degree!
Which male star would you like to date? If I had to, ermm maybe that dude from Twilight, not Robert Pattinson, the other one, his physique is unreal, I'm aiming to look like that!
Pyjamas or in the buff? When I was at Uni the buff, but when I'm back home my comfy PJs. I don't want my mom walking in my room in the morning, and seeing my thing!

Kyle – 17, as the baby of the group Kyle's party animal antics keep the energy of the group sky high. With an Italian heritage, Kyle's olive skin and dark hair really attract the girls… and boys.
Tell us a secret: I went on a world challenge to Borneo for 5 weeks
Which male star would you like to date? James Corden because he's hilarious
Favourite brand of undies: I like Diesel ones

Harry – 19, his fitness regime and down to earth manner keeps a reign over the boys. In addition Harry brings his preppy style and ambitious attitude to the group.
Tell us a secret: I do karate
Which male star would you like to date? Arnold Schwartzeneger, because he's awesome
Favourite brand of undies: Aussiebums
OK boys… who's the most camp?
Erm , we wouldn't say any of us are camp really, although we all have our moments now and again haha………..
The guys have been busy recording their first studio album Worlds Most Wanted and gearing up for the release of their first single Long Long Way in July… expect to be seeing a lot of these guys at Pride events this summer.