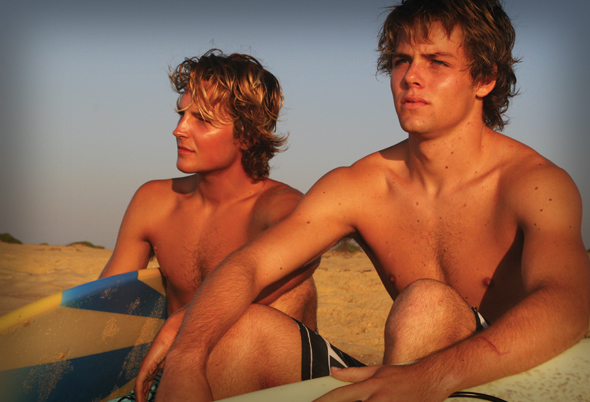 Don't be fooled by the title, this is Newcastle Australia and is the home of a bunch of teens with surfing attitude. Leading the cast is home-grown talent Lachlan Buchanan, who you may have seen in Home and Away and teen surfing drama series Blue Water High, plays Jesse, a talented surfer, who is saddled with a belligerent older half-brother, a former surfing star; and a younger gay brother, who causes him constant embarrassment. The 2008 movie gets it DVD release this month and Bent couldn't wait pull on the boardies and take to the waves with its star.
Can you remember how you got the part in Newcastle?
Yes, I came across an open casting call on the internet for this surfing movie called Newcastle, and it sounded cool so I just casually submitted my details, and within ten minutes I got a call from the Casting Director saying; "Please call the director, you look perfect". So I did that, and put a couple of auditions down on tape before going to Sydney to audition with the other cast members, and then was offered the role.
How did you feel about your character?
The character was similar to a couple of people I know, and easy to relate to in some aspects, but I certainly felt challenged about playing such an angsty, visceral teenager as I'm quite the opposite. But as an actor I like to be challenged so it was something I was keen to embrace.
Relationships in the movie get a bit edgy… did you mind any of the scenes?
Oh you think so? Haha. Some of the scenes were a bit nerve-wracking to perform, it's not easy to do them in front of a bunch of people, but after getting into the swing of things the sex/nudity scenes became more of a laugh and just another challenge. It's certainly made me less fearful in other projects.
You appeared in Oz teen series Blue Water High as a surfer… what was that like?
It was a dream job. My job was to do the two things I love most – surfing and acting, so everyday was a joy to be on that show. Playing a surfer who was much more gentle and laid-back after playing Jesse in Newcastle, was certainly a nice change.
Are you a good surfer and would you prefer the beachbum lifestyle?
I'm not a pro, but I've been surfing since I was 12 and am pretty confident. The most important thing for me is that I have fun while doing it, and yes, in many ways I would prefer the beachbum lifestyle, but I think it could get boring after a while so it's nice to mix things up a little.
Have you had any frightening or unforgettable experiences whilst surfing?
Many. From almost drowning numerous times to sharing waves with huge sharks, you enter the surf knowing that you're taking a risk – it's all part of the thrill! Also, I lost my board shorts once when I got dumped by a huge wave….that sucked.
Is appearing in Home and Away or Neighbours part of a rite of passage for Australian actors?
Apparently so! The soapies are the biggest shows in the country, and there aren't multitudes of actors in Australia so everyone is bound to appear on the shows at some time. They certainly are a leg-up in the industry not just in Australia, but around the world. It's incredible how many former H&A and Neighbours people are out here and doing quite well in the US (where I'm living now).
Where do you like to hang out on a day off?
As I'm currently living in LA, on days off I like to hang at the beach or go hiking or chill with friends. Fairly similar if I was in Australia. The clubbing scene down there can be pretty awesome, depending on where you live. Sydney is certainly the place for it – it never closes down basically. But Aussies, being so closely related to the Brits, know how to party so there are cool places everywhere. It can get pretty epic sometimes…
Which do you prefer: baggy shorts or Speedos?
Haha uhh…..quite a difference there. I wouldn't choose either as a first preference to be honest – something in between. I have done the occasional surf in Speedos with some mates as a joke before though. Freaks the tourists out.
OK but which is your favourite brand of underwear?
I don't wear any……. Joking. I'm gonna say Diesel. But nothing ever beats free-balling!