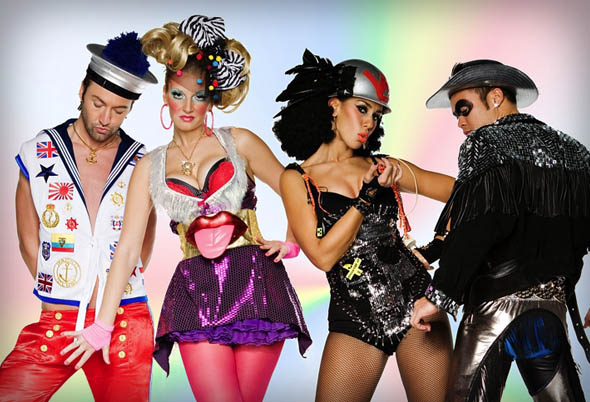 After a 10 year hiatus, Dutch dance four-piece Vengaboys are venturing into the pop stratosphere once again, this time with a high speed rocket bound for the seventh planet. Already causing a commotion in many a European club; Kim, Denice, Robin and new addition Ma'Donny describe the track as "Spaceage disco for 2010, with addictive lyrics and big Venga-sounds you can't resist." Taken from the band's celebratory 'Best Of' album and DVD releases (out July 19th) the song is certainly recognisably Venga, but with added gusto and laced with more than a touch of irony.
We caught up with Vengaboy Robin Pors in Israel to ask him just who came up with the title of the single…
'Rocket to Uranus'… isn't it lovely? It's outrageous. We have two gorgeous producers… actually not too handsome but we love them… and they came up with it. They are always funny… like Boom Boom Boom I want you in my room… kiddies singing the song but they don't know what it means. Rocket to Uranus… pretty funny right?
Have you had anybody say they weren't going to play it because of the title?
Yes, but we are on a trip… a Rocket to Uranus… in space… so I think that's the fun of it.
The video for the track has appearances by Perez Hilton and the legendary Pete Burns, how did you get them involved?
Well, we met them at a very 'special' party (laughs) and they were such fun…and their rockets were so big… we just had to include them.
What can we expect from a Vengaboys show these days?
Well , our shows are uplifting and we have all ages. Kids come and go away singing the songs, then their parents start to sing them…
You seem to have even crossed over to the student audiences these days…
Yes, we like a large audience. Our songs are fun and full of love, as are we… so that is all fine. People leave a Vengaboys show happy and singing our songs.
I see that your outfits are as outrageous as ever… who designs them for you?
Well, it's… erm… how do you call it… H&M. Yes it's their new collection…
Laughter from interviewer… You joke…
You want them…?
Yes sure… let's kit out the Bent team in the sparkly jock strap please…
You can get them at H&M. (laughter)
Will you be touring in the near future?
Yes, the new album, we've recorded some new songs so… we'll be touring around the world pretty soon.
Rocket to Uranus – Out 12th July
Best Of… album and DVD – Out July 19th – All Around the World/UMTV