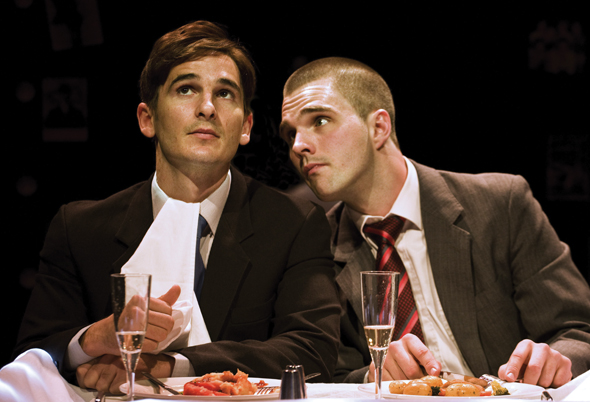 Holding the Man became one of the most successful Australian stage productions in the last few years breaking several box office records. It looks at what it was like to grow up gay in Australia of the 1970's and indeed is based on the memoir of Timothy Conigrave. From being the gay boy in an all-male school in Melbourne up until the AIDS epidemic hit in the mid to late 1980's we follow Tim as he, and those around him, come to terms with his sexuality and the effects it has on his life. It is also a rather beautiful and unlikely (though nothing is stranger than real life) love story between the openly gay kid at school and the captain of the football team and how over fifteen years the relationship between Tim and John develops including the separations, the discriminations, the temptations, the jealousies and the losses.
Before I arrived at the theatre I had an inkling that I might laugh quite a bit at 'Holding The Man' I wasn't expecting to be reduced to tears in the first half from laughter (a sleeping bag scene has to be seen to be believed) and then to tears in the second half for the emotional punch that a twist in this tales leaves the audience with. What's more the two leads Guy Edmonds and Matt Zeremes play this so wonderfully you wouldn't believe they aren't a couple in real life (and they aren't) the relationship between them blossoms and touches the audience in a way you don't get in many plays be they the West End or anywhere.
The rest of the cast are marvellous too, in particular Jane Turner and Simon Burke who play about ten characters each from the parents of both the boys to doctors, students, Spanish lovers… you name it they play it. Jane Turners portrayal of Tim's mother is incredibly moving, when she is not being brilliantly funny, and will leave you feeling quite emotionally wrung out. It might occasionally be so honest it becomes uncomfortable but that is where you learn from a play like this, and believe me you will go away thinking about this show for weeks to come.
Holding The Man is on at the Trafalgar Studio's in London until the 3rd of July.