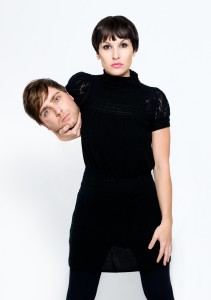 Australian band 'Frequent People' needs your help!!  A forthcoming single, 'Superhero', taken from their eponymous debut album, means that Frequent People need 'Freq-y People'!!  People with extraordinary habits or behaviours. You know the sort of thing… people who can contort their bodies into odd shapes, someone who can fit through the head of a tennis racket, people who defy logic by being able to do the seemingly impossible and anyone with a party trick or oddity that they show off to others.  Any kind of unusual habit or behaviour!
Freq-y People need to film their unusual 'super-power' and send in the video.  They can do it by email (if below 9mb) to gr8online@quitegreatmusicpr.co.uk or they can upload their video to the 'Freq-y People group on Facebook
The best videos will be used as part of the promotional video for 'Superhero' – showing ordinary people with their freq-y superpowers – and ALL videos sent to us will be available for viewing on the Freq-y People Youtube channel
Meanwhile, so you know what all the fuss is about – adjust your frequency and prepare to immerse yourself in the brave new musical world of Frequent People.
An innovative collective of musicians, producers, DJs and video artists that draw members from Melbourne, New York, London, Hong Kong and Abu Dhabi – Frequent People shatter genres and expectations at every turn with their unique fusion of 'Power Pop' blending, rock and pop melodies with cutting edge electronica.
The brainchild of Natski and long-time multi-instrumentalist collaborator Chass Guthrie, Frequent People have produced a ground-breaking album that bounds through the realms of contemporary pop.
Following in the footsteps of fellow Australian musical pioneers 'Empire of the Sun' Frequent People have built an entire philosophy around their unique approach to producing music and are as much an underground movement or a secret society as a pop band.
www.frequentpeople.com