Methadrone – The change in the law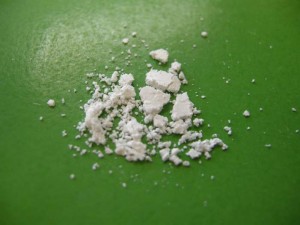 A big hit in clubs across the UK and regarded by many as safe because until recently it was seen as a 'legal high'.
The main derivative of Cathinone, a naturally occurring stimulant found in the khat plant and cathinones is the name given to a group of drugs that are 'cousins' of amphetamine-like compounds that include amphetamine itself (speed), cocaine and MDMA (ecstasy). These cathinone derivatives were previously sold online and in headshops as so called 'legal highs'. Cathinone derivatives include a variety of chemical compounds with slang names including:
Mephedrone. (aka 4-MMC; 4-methylmethcathinone and MCAT). A stimulant drug with effects similar to amphetamines (speed) and MDMA (ecstasy) producing euphoria, alertness, talkativeness and feelings of empathy. It can also cause anxiety and paranoid states and risk overstimulating the heart and circulation, and overstimulating the nervous system to cause fits. Evidence suggests that mephedrone may cause death.
From the 16th April 2010, the entire 'family' of cathinone derivatives became controlled as Class B drugs. This means they are illegal to possess, give away or sell. Possession can get you up to five years in jail. Supplying someone else, including your friends, can get you up to fourteen years in jail and an unlimited fine.
www.talktofrank.com 0800776600
Living In The Gaytrix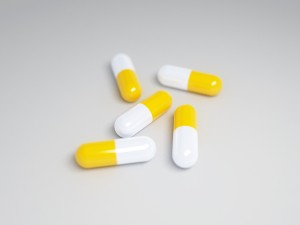 74% Of Gay And Bisexual Men Would Refuse A Straight Pill
Borrowing the concept from the science fiction film The Matrix, over 2,500 gay and bisexual men were given the choice: Take the blue pill, the story ends, and you wake up heterosexual. Or take the red pill and you remain in The Gaytrix. The statistics revealed that 3 in 4 of those surveyed would refuse to take a pill to change their sexuality.
In a recent survey conducted by the free gay dating website ManCentral.com, members were asked if they would take a pill to change their sexual orientation.
Whilst 26% of those surveyed admitted that they would take a 'straight pill', if such a pill existed, almost three times as many men (74%) had no desire to alter their sexual preference and chose to reject any such 'cure'.
Considering the improved attitudes towards homosexuality in today's society, it may be assumed that younger males would be less inclined to covet heterosexuality than those who grew up in a less accepting social climates. However, males aged between 18 and 24 were the most likely to take a pill to change their orientation (37%), this gradually fell to just 13% of those aged 51 to 60.
Consequently, it seems that for the majority of gay and bisexual men, society bears little impact on the individual, whilst self-acceptance develops with age. On the other hand, younger males are more likely to feel anxious to conform to the norm, which may contribute to the higher percentage of 18-24 year olds willing to take a straight pill.
The survey also found that:
16% of openly gay and bisexual men admitted they would take a pill to change the sexual preference, whilst more than double the amount (38%) of closeted men would accept the altering drug.
Gay men were the most likely to refuse a 'cure' with 79% unwilling to change their sexuality; compared to 66% of bisexual men and 54% of bi-curious males.
Though 1 in 4 of the men surveyed would take a pill to become straight, the research highlights that the majority of gay, bisexual and bi-curious men have no desire to leave The Gaytrix.
Try Something Different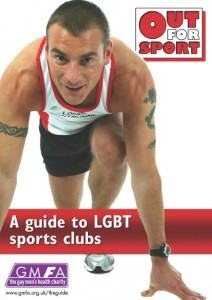 Have you ever wondered if there is anything more interesting to do than spend time in that bar, club, or on that website? Do you fancy playing a sport in a fun, sociable group with other gay, bisexual or transgender men and women? If so, then GMFA's new guide to LGBT sports, social and activity clubs is for you.
The 'Out For Sport & Out For Fun' booklet from GMFA, the gay men's health charity, hits the scene this week and includes details of LBGT sports clubs and activity groups across London. As well as updating details for established clubs, it includes lots of new ones that have been set up since GMFA last published its guide in 2006. GMFA has also relaunched an online version at gmfa.org.uk/theguide, which now includes listings of groups across the UK.
Matthew Hodson, Head of Programmes at GMFA, says: "The gay scene can be great for socialising with other gay men and lesbians but it's by no means the only option. There are so many other ways to meet like-minded people and we want to encourage men and women to get out there and try something a bit different. So, whether you already have an interest or a sport, or you'd like to try a new one, give it a go!"
If none of the groups listed take your fancy, GMFA will even help you set up a new one yourself. Just email them at gmfa@gmfa.org.uk to get a copy of their guide to setting up and running a successful social group or sports club.
Gay sex for the clueless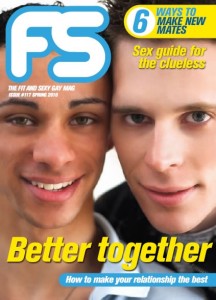 Most gay guys think they know everything there is to know about sex…but actually is there a lot more to learn? The latest issue of FS magazine from GMFA, the gay men's health charity, gives you a wealth of information if you are clueless about sex, and some handy pointers if you're not.
The article will help you get clued up about your cock, sucking, fucking, your arse, STIs and HIV, GU clinics, and sex, drugs and alcohol. There's a whole host of information that most of us were never told about in school, including:
* You cock contains some of the most sensitive areas of your body.
That's why it's so much fun to fool around with.
* STIs like HIV can get into your body through your cock. The areas
that let viruses in are the opening you wee through, your foreskin
and the head.
* Catching HIV from sucking cock is relatively rare. However, both
partners can catch gonorrhoea, syphilis, herpes or Chlamydia from
blow-jobs.
* The lining of your arse is like a sponge that soaks up liquid,
including spunk if you get fucked without a condom and the guy
cums inside you. That's why the arse is so vulnerable to
infections like HIV.
* The route up your arse is not a straight line – there is a bend in
it. That's why certain sexual positions feel better than others.
There's also a vox pop of gay guys talking about their first experiences of gay sex and where they got their gay sex education from. To read the full article, 'Gay Sex for the clueless', as well as other features including 'How to have a winning relationship' and 'Six ways to improve your social life', look out for your copy of FS, issue 117. It's available for free in gay venues and GUM clinics across the UK or can be downloaded at gmfa.org.uk
Walk for Life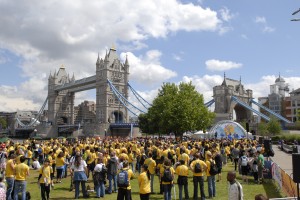 On Sunday 6th June, HIV and AIDS charity Crusaid will host its annual Walk for Life event in Potters Fields Park, London. A highlight of the summer fundraising calendar, this event is Europe's largest fundraising walk for HIV and AIDS. Walkers will embark on a 10k walk around the capital taking in many of the city's iconic sites such as St Paul's Cathedral and the London Eye in a bid to raise money for people affected by HIV and AIDS living in poverty.
Over 3,000 people registered for Crusaid's Walk for Life last year, and this year once again promises to be a fun-filled and action-packed day for everyone involved as the event celebrates its 21st birthday. In true party style, walkers are encouraged to join in the fun and 'walk the walk' in their finest fancy dress to mark the special occasion. There will also be an after-walk party extravaganza with a medley of live entertainment, food, drink and a few celebrity faces to add to the excitement of the day.
The Walk kicks off at 10am – 6pm and there is a £10 registration fee (free for under 15s and unwaged participants)