Cinema – May Releases – Chris Amos
Iron Man 2
Out: 30th April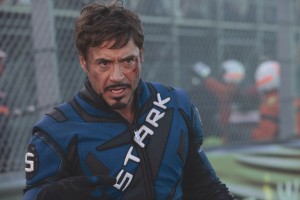 After confessing his identity as Iron Man to the world, Tony Stark (Robert Downey Jr.) comes under fire from the United States Government who demand he hand over the powerful weapon that is the Iron Man suit. As the Government attempts to create a duplicate suit with the assistance of Stark's rival, Justin Hammer (Sam Rockwell), Tony's long time friend Jim Rhodes (Don Cheadle) is put centre stage in the conflict. Meanwhile, a mysterious and dangerous foe emerges in Ivan Vanko (Mickey Rourke), who creates an alternate and powerful persona known as Whiplash in order to exact revenge on the Stark family once and for all… it isn't long before he unites with Hammer in an effort to destroy Iron Man. With the arrival of his shady new assistant (Scarlett Johansson), and persistent recruitment attempts from S.H.I.E.L.D. director Nick Fury (Samuel L. Jackson), Stark needs all the help he can get in order to overcome the obstacles.
Eyes Wide Open
Out:14th May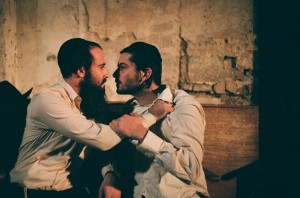 Homosexuality in the Orthodox community is the subject of this dark and disturbing Israeli film. Aaron Fleishman (Zohar Shtrauss) is a father of four who takes over the family kosher butcher shop following the death of his father. Aaron's observant world is turned upside down with the arrival of a young Yeshiva student Ezri (Ran Danker). When Aaron and Ezri begin spending time together, Aaron is quickly ostracised within the Orthodox community. Confronted by Rabbi Vaisben (Tzahi Grad), Aaron declares he was dead before meeting Ezri. We see how quickly social control turns violent and ugly in the Orthodox community when Ezri is forced to leave. It has a strong cast and delivers a powerful message in a country divided by debates about the growing influence of the Orthodox Jewish community.
Robin Hood
Out: 14th May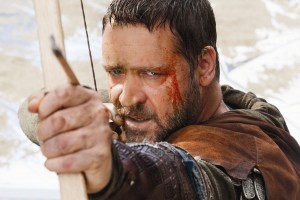 Russell Crowe stars as the legendary Robin Hood. This version of the story chronicles the life of the expert archer, previously interested only in self-preservation, from his service in King Richard's army against the French. Upon Richard's death, Robin travels to Nottingham, a town suffering from the corruption of a despotic sheriff and crippling taxation, where he falls for the spirited widow Lady Marion (Cate Blanchett), a woman sceptical of the identity and motivations of this crusader from the forest. Hoping to earn the hand of Maid Marion and salvage the village, Robin assembles a gang whose lethal mercenary skills are matched only by its appetite for life. Together, they begin preying on the indulgent upper class to correct injustices under the sheriff.
Prince of Persia
Out: 21st May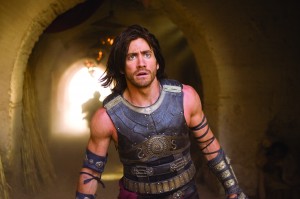 Walt Disney launches a new mega blockbuster franchise to rival its own Pirates of the Caribbean, so expect games, rides, merchandising aplenty. Set in medieval Persia, Jake Gyllenhaal stars as an adventurous prince who teams up with rival princess Tamina (Gemma Arterton) to stop an angry ruler from unleashing a sandstorm that could destroy the world. However, he is tricked by a dying Vizier to unleash the Sands of Time that turns out to destroy a kingdom and transforms its populace into ferocious demons. In his effort to save his own kingdom and redeem his fatal mistake, it's up to the prince and the princess to return the sands to the hourglass by using the Dagger of Time, which also gives him a limited control over the flow of time. Has the potential to be the biggest film of summer.
Sex And The City 2
Out: 28th May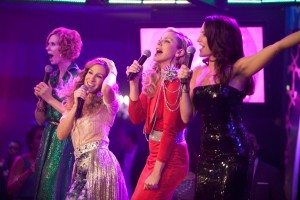 After the huge international success of the first feature, film director-writer Michael Patrick King re-teams with his four leading ladies – Sarah Jessica Parker, Kim Cattrall, Cynthia Nixon and Kristin Davis. In this sequel each of the girls is having a difficult time dealing with their latest female issue (menopause, married life, children etc.) so they do what any responsible rich adult does – go on holiday. It's in Abu Dhabi where Carrie bumps into old flame Aiden leading to more relationship angst. The camp factor is turned up full volume with a gay wedding and plenty of cameo appearances including Liza Minelli, Miley Cyrus, Heidi Klum and Mariah Carey.
Hot Tub Time Machine
Out: 7th May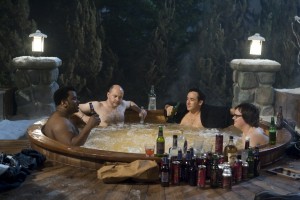 This year's The Hangover, Hot Tub Time Machine follows a group of best friends who've become bored with their adult lives: Adam (John Cusack) has been dumped by his girlfriend; Lou (Rob Corddry) is a party guy who can't find the party; Nick's (Craig Robinson) wife controls his every move; and video game-obsessed Jacob (Clark Duke) won't leave his basement. After a crazy night of drinking in a ski resort hot tub, the men wake up, heads pounding, in the year 1986. This is their chance to kick some past and change their futures – one will find a new love life, one will learn to stand up for himself with the ladies, one will find his mojo, and one will make sure he still exists! Is very funny.
TEN THINGS YOU NEED TO KNOW ABOUT ALEX O'LOUGHLIN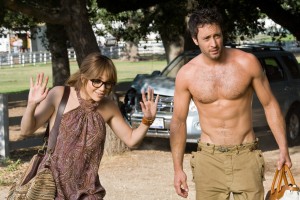 Aussie hunk Alex O'Loughlin stars as the romantic lead opposite Jennifer Lopez in this month's romcom the Back-up Plan.
1. The Australian actor was born in August 1976.
2. Got his USA break starring in the acclaimed TV series Moonlight as a vampire private investigator.
3. Was a candidate for the role of James Bond which eventually went to Daniel Craig.
4. Graduated from the National Institute of Dramatic Art in Sydney in 2002.
5. Enjoys riding motorcycles, rock climbing, music and playing his guitar.
6. As a kid he was a fan of the heavy-metal band Iron Maiden.
7. Born in the city of Canberra but grew up in Sydney. From the age of 10 he went back and forth from the two cities. Has a sister, who is one year younger than he.
8. Has signed on to play Detective Steve McGarrett in the new remake of Hawaii Five-O.
9. Was room-mates with Jonathan Rhys Meyers in New York City during the filming of August Rush (2007). The two play brothers in the movie.
10. In 2005, Alex was nominated for The Australian Film Institute's Best Lead Actor in Television for his role in Mary Bryant.
MOVIE BUZZ
It's rumoured that Marvel Studios is in talks for Joss Whedon to direct The Avengers! The film will bring together Iron Man (Robert Downey Jr.), Captain America (Chris Evans), Thor (Chris Hemsworth) and Nick Fury (Samuel L. Jackson) together for one incredible flick. The film is fast tracked and could be out as soon as May of 2012.
A film about the life of Jackie-O is in the works with Darren Aronofsky as the director and his fiancée, Rachel Weisz, playing Miz Jackie herself. The flick would look at the iconic First Lady's life in the days following her husband's, President Kennedy, assassination.
Samuel L Jackson and hunky Kellan Lutz have signed on to star in the underground fighting thriller Fury about a drifter who finds himself forced into the savage world of a modern gladiatorial arena, where men fight to the death for the entertainment of the online masses.
Zac Efron is looking to further his acting credibility and set to co-produce a remake of Snabba Cash (Easy Money), the acclaimed Swedish film. The thriller follows three interconnected storylines involving drugs and organized crime, with the main character a young man (Efron) who hopes to strike it rich quickly by becoming a runner for a coke dealer.
David Cronenberg's next film A Dangerous Method is based on the play by Christopher Hampton and is about the conflict between Freud (Viggo Mortensen) and his pupil Jung (Michael Fassbender). Keira Knightley will play Sabina, a disturbed young woman brought to see Jung by her father after which Jung and Sabina have an affair.