Adam Lambert – For Your Entertainment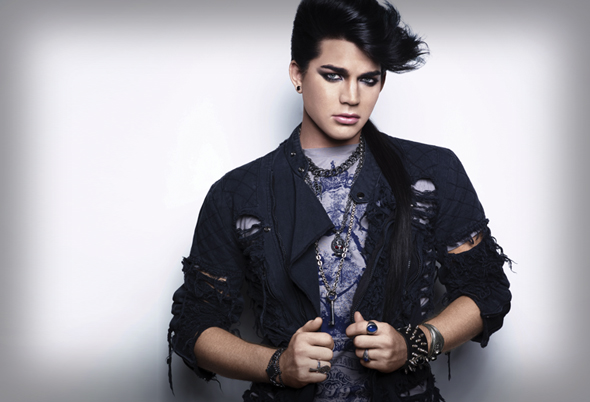 In the USA, Adam Lambert is very well known. Last year he took part in American Idol, the country's highest rating TV event and was placed a very creditable second. His vocal gymnastics added a certain style, drama and dynamics, which quite literally left both the judges and the viewing public speechless. He should have won. Even the winner, Kris Allen, thought he should have won saying; "Adam deserved this." He went on to explain this remark. "He was the most consistent person all year. He was seriously one of the most gifted performers that I've ever met."
Why did he fail to capture that elusive winners tag? It could have been because of an interview he did where he quite happily explained that he was gay. Eeek! Whereas, in the UK when WillYoung came out it didn't make any difference, in the US it was thought that his coming out, and images of him kissing his boyfriend that were widely circulated, might have had a disastrous effect on the population's desire to vote for him.
Adam himself seemed to take it very philosophically and not be too perturbed about how things turned out. A natural performer, Adam had been on the stage since the age of ten and had sang and toured in various plays and musicals in the US and in Europe. His decision to appear on American Idol apparently came after he spent a few days at a festival enjoying the effects of those naughty, psychedelic mushrooms one reads about. Having gained his position on the show he set about choosing and interpreting songs in his own unique way. In the final, when he sang one of Queen's classic numbers alongside Brian May playing guitar, such was the power he brought to the song, it was rumoured he was being lined up to front the band.
At the American Music Awards he performed the title track of his new album "For Your Entertainment" and courted controversy.  The performance showed Lambert kissing a male keyboardist, grinding a dancer's head against his pelvis, and grabbing the crotch of another. The conservative viewer's groups were incandescent with rage branding him immoral and perverse. Lambert told Rolling Stone magazine, "Female performers have been doing this for years—pushing the envelope about sexuality—and the minute a man does it, everybody freaks out."
Thankfully, we can now experience what all the fuss is about with the UK release this month of his album. With his out-of-this-world vocal range and unique musical style, Adam Lambert is the ultra-glam, rock superstar that will have us all hooked. The record garnered contributions from such innovative artists as Lady Gaga, P!nk, Muse, Justin Hawkins (formerly of The Darkness) and Rivers Cuomo of Weezer. Brilliantly produced and a rock/pop mix that shows off his incredible vocals… it is a clever, classic debut album and one that should see the same success here as it has already achieved in the States.
For Your Entertainment – RCA Records – Single out: 26th April   Album out: 3rd May