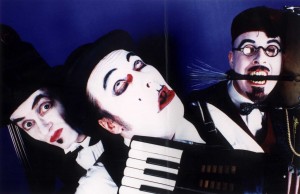 Warning: Not for the faint-hearted! Godfathers of alternative cabaret, the award winning Tiger Lillies, are going back on the road until the end of April with their critically acclaimed show celebrating 20 years of dark and deviant theatrics.  The world's foremost Death Oompah band will perform songs from their Olivier award-winning smash hit show Shockheaded Peter, along with a selection of numbers from their Grammy nominated album The Gorey End and other deranged fan favourites… but what is the secret of their success?
I'll let you know when we become successful! It's funny I've always thought it would be nice to sell a few million records! Sell out Carnegie Hall for a few weeks. Write the music for a hit show on Broadway. I suppose those things could happen. I guess at some point I would then have to admit I was successful.
You're described as a cult… do you find this a plus or a negative?
I think "cult" is probably a nice word for people who haven't really achieved success (there's that word again!). I think the position of the Tiger Lillies is ridiculous we purposefully alienate and antagonize. Then I witter on about not being successful.
Did it all start out as an Austrian style Oompah Band with shorts and slapping or have you always been subversive Operoompah act? shorts wearing, thigh slapping,

Operaoompah! I like it! Can I use that? Thigh slapping short wearing! Sounds pretty subversive to me! Now all we have to do is tie up all the record moguls, super glue their eyelids and program them to love oompah more than all that witless dross they normally promote.
You seem to make a huge impact when you play in overseas why do you think that is?
Sorry I keep looking over my shoulder when answering these questions. "a huge impact"! I suppose we have had some success in er Greece. We do have a few hundred fans in some cities (and ok maybe even thousands in some big cities). I think they like our so called perverse non-conformist approach. Actually I don't think it's true.
We just don't bend over backwards and compromise like you're supposed to.
On your web site… we see you shagging inflatable sheep… what the hell is going on? Will nobody think of the children!! children, shagging, inflatable sheep.

That's the problem, everyone thinks of the children (who probably wouldn't care anyway). In the privacy of my own website why shouldn't I have sex with an inflatable sheep? What the hell am I talking about….I think I'm not making much more sense than a politician.
On your current tour what new 'experiences' can the audiences expect?
I seem to be writing a lot of songs about suicide….so think twice about booking a ticket, the show may be cancelled!
Is superstardom a thing to be craved… like a spot on the X Factor… or to be shunned in favour of the life of a struggling artiste?
Yes I think superstardom should be craved for like a spot….a pustulous monster! A struggling artiste…now that sounds like a fairly accurate description of this Oompah Band I play in!
www.youtube.com/user/JustTigerLillies
www.ticketmaster.co.uk