Queer Up North is 18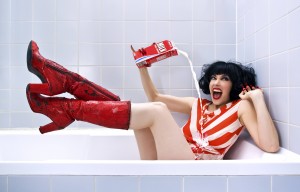 Ground-breaking UK arts festival comes of age         18th ­-31st May
This May one of the UK's most ground-breaking arts festivals, Manchester based Queer Up North, celebrates its 18th birthday with an outstanding line-up of theatre, cabaret, comedy, art and music.
To mark its coming of age Queer Up North is bringing back some key works from the festival's history in new and developed productions. The extensive programme, running city wide for 14 days also features world premieres, new commissions, old favourites, and provides a platform for new artists.
Trailblazer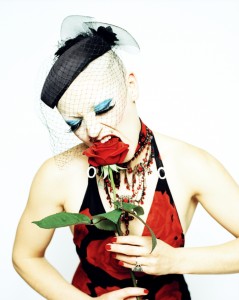 Quarantine and Company Fierce – Susan and Darren
29 April – 8 May, Sachas Hotel, Manchester
A re-working of the highly acclaimed 2006 performance, created by dancer Darren Pritchard and his mum Susan, remade for 2010 to reflect the changes in their relationship since the show was first made.
Highlights
Starving Artists – Road Movie
19 ­-22 May, Library Theatre
Festival favourites Starving Artists revisit their award winning 1995 smash hit, Road Movie. Writer Godfrey Hamilton reworks this beautiful tale of love, travelling and loss, set against the AIDS crisis of the early 90s, with a tour de force performance by Mark Pinkosh.
Christopher Green ­ Queer Up North's Big Birthday Bash
22 May, secret city centre venue tbc
An interactive extravaganza and subversive homage to that most Northern of institutions, the Working Men's Club. The evening will be hosted by QUN favourite Christopher Green, (best known for his outrageous character, Tina C). Chris will be joined by a dream team of party guests, including Stockport housewife Mrs Barbara Nice, a new strip routine from Ursula Martinez and karaoke from Kazuko Hohki and her Frank Chickens.
La Gayola – The Queer Up North Spiegeltent
26 – 31 May, Sackville Street, Manchester
The La Gayola Spiegeltent features an outrageous line-up of cabaret, burlesque and music including: Justin Bond; Taylor Mac ­Meow Meow; Bourgeois and Maurice and a full length show from Empress Stah, who proves that diamonds are indeed forever.
Qasim Riza Shaheen -Nine Acts of Reciprocity
15 May ­- 11 July, Gallery Oldham
According to the Natya Shastra (the Hindu 'bible' for the performing arts), the human being is comprised of nine sentiments; love, humour, sadness, fury, heroism, disgust, wonderment, terror and peace. Nine Acts of Reciprocity is a gallery installation by Manchester- based artist Qasim Riza Shaheen based on this concept.
Boutique Events
A cornucopia of events, screenings, comedy nights, literary brunches and poetry events presented in conjunction with partner venues city-wide.
www.queerupnorth.com