"Diamonds, fur coat, champagne" Hard Ton, discussing their musical inspiration!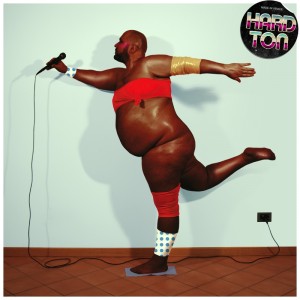 'Selfish' is Hard Ton's debut EP for Gigolo Records, an artist in the true sense of the word, and one that appears to follow the same lineage as previous label mates Fischerspooner, Tiga et al. For those unfamiliar with this dazzling addition to our roster, then we must turn to his short biog for an excellent introduction 'What would happen if Divine had been captured by disco aliens and later beamed back to modern day Italy? The answer is closer than you think, and maybe you need look no further than Hard Ton, the biggest disco queen of the Twenty-first Century. With a body that can only remind us of John Waters' muse, a voice that confidently pulls-up to Sylvester falsetto's, all set to soundtrack that hops between accelerated beats and shameless acid sounds. He is omnivorous, feeding from the multilevel outfits of Leigh Bowery and modern pop imagary. With his 150kg Hard Ton is Giorgio Moroder low-fat grooves model, with all points colliding into a heavy weight Chicago-sound queen machine.'
Just make some space… you have been warned… Hard Ton is about to roll in on the UK scene.
'Selfish' – Gigolo Records