The NHS provides GUM (Genito-Urinary Medicine) clinics in most major towns and cities across the UK offering free HIV testing and sexual health screening.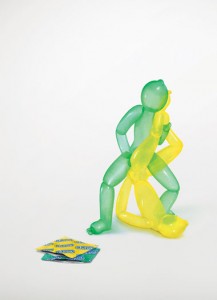 Understanding GU Services
Most clinics have health advisors who can talk to you about any worries you have about your sex life. They will also be able to advise you on what vaccinations are available and help you decide whether it is a good idea for you to take an HIV test.
There is no need to feel embarrassed about going to a sexual health clinic. Staff at the clinics are professionals who are trained and expected to treat you with sensitivity and respect. Services are confidential (your confidentiality is protected by law), but if you still want to use a false name you can do so.
All general GU clinics will offer gay men Hepatitis B vaccination and many will also vaccinate you against Hepatitis A. They will often discuss any worries or queries regarding STIs (Sexually Transmitted Infections) that you may have.
It is suggested that you should visit a GUM clinic for a check-up at least once every six months whilst sexually active although, if you have had high risk sex, or are worried you have come in contact with a sexually transmitted infection, you can have one before this time. However, if you think you have come in contact with a virus or infection it is recommended that, unless you are displaying symptoms, you should wait a week before being tested. Most clinics offer a drop-in service, the time of which will be specified in the listings, during which you can just turn up to get a check up, some will offer a mixture of drop in and appointments, few offer a check up by appointment only service.
What to expect during your check up
Boys should expect to have their penis examined by a doctor or nurse, they could also be asked to provide a urine sample, to have a cotton wool swab taken from the tip of their penis, from the anus, or to have a blood test taken.
Where horror stories may circulate about the pains of having a sexual exam, it is actually quite painless. The only discomfort is usually due to psychological blocks against examinations of such a nature, the only advice to give in this regard is to relax. The minor discomfort of a sexual health exam is nothing in comparison to the risks of not having one regularly.
If you are worried about any NHS/GUM facility there are many private firms and hospitals that offer the same service but at a cost.
For further info check out these sites:
Keep safe, be sure, stay sexy
With the current rise in many  STDs  Bent, in association with ManCentral.com surveyed 2,364 of their members to find out their attitude to visiting a GUM clinic.

With almost 140,000 members ManCentral.com allows gay, bisexual and curious men to join, create an online profile and contact other members of the site for free.
Red indicates most likely to say Yes, and Blue indicates most likely to say No.
| | | | | | | | | | | |
| --- | --- | --- | --- | --- | --- | --- | --- | --- | --- | --- |
|   | Answer | Average | 18-24 | 25-30 | 31-35 | 36-40 | 41-50 | 51-60 | 61+ | |
| Have you ever been to a GUM clinic for a STD test? | Yes | 42% | 25% | 42% | 59% | 53% | 50% | 45% | 35% | |
| Did you go willingly? | Yes | 98% | 92% | 96% | 97% | 100% | 100% | 100% | 100% | |
| Were you scared about the results? | Yes | 49% | 49% | 59% | 38% | 53% | 51% | 46% | 50% | |
| Are you glad you went? | Yes | 99% | 100% | 100% | 100% | 100% | 97% | 98% | 100% | |
| Would you recommend a friend to get tested? | Yes | 99% | 100% | 96% | 100% | 100% | 99% | 100% | 100% | |
| | | | | | | | | | | |
|   | Answer | Average | Gay | Bisexual | Curious | | | | | |
| Have you ever been to a GUM clinic for a STD test? | Yes | 42% | 50% | 28% | 13% | | | | | |
| Did you go willingly? | Yes | 98% | 99% | 98% | 60% | | | | | |
| Were you scared about the results? | Yes | 49% | 49% | 50% | 25% | | | | | |
| Are you glad you went? | Yes | 99% | 98% | 100% | 100% | | | | | |
| Would you recommend a friend to get tested? | Yes | 99% | 99% | 100% | 100% | | | | | |
| | | | | | | | | | | |
|   | Answer | Average | Active | Active/Vers | Versatile | Passive/Vers | Passive | | | |
| Have you ever been to a GUM clinic for a STD test? | Yes | 42% | 38% | 45% | 43% | 54% | 32% | | | |
| Did you go willingly? | Yes | 98% | 100% | 98% | 99% | 96% | 97% | | | |
| Were you scared about the results? | Yes | 49% | 59% | 35% | 45% | 59% | 48% | | | |
| Are you glad you went? | Yes | 99% | 98% | 100% | 100% | 96% | 100% | | | |
| Would you recommend a friend to get tested? | Yes | 99% | 96% | 100% | 100% | 100% | 100% | | | |
| | | | | | | | | | | |
|   | Answer | Average | Condom Always | Almost Always | Hardly Ever | Never | | | | |
| Have you ever been to a GUM clinic for a STD test? | Yes | 42% | 37% | 48% | 49% | 29% | | | | |
| Did you go willingly? | Yes | 98% | 98% | 98% | 100% | 100% | | | | |
| Were you scared about the results? | Yes | 49% | 48% | 53% | 40% | 0% | | | | |
| Are you glad you went? | Yes | 99% | 99% | 98% | 100% | 100% | | | | |
| Would you recommend a friend to get tested? | Yes | 99% | 100% | 98% | 100% | 100% | | | | |
| | | | | | | | | | | |
| | | | | | | | | | | |