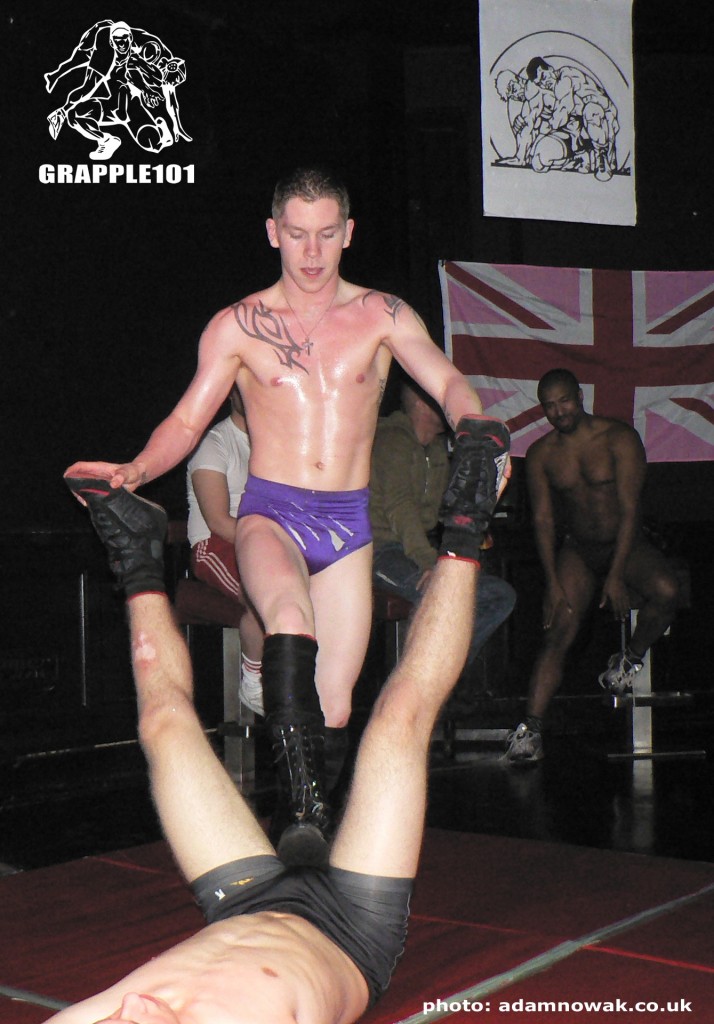 Once in a while an event hits the gay scene that gets everyone talking and Grapple101 at Eagle in London seems to tick all the right boxes. Where else can you find sexy lads stripped to Speedos or shorts rolling around on the floor in a friendly relaxed atmosphere with no attitude and some great music.
Grapple101 was launched November 2009 as a monthly pilot and has been such a success that Eagle venue manger and grapple101 promoter Danny Cullen has decided to run it as a weekly event. "The Event is open to gay, gay friendly and bisexual men who can either watch or take part. Safety is a great priority so we insist that all visitors who have no wrestling experience take part in a introductory class normally held at 11pm every week by semi- pro wrestler Robbie Neill or other keen wrestlers from such groups as Speedo Wrestlers London."
Hosted by actor and porn star Ashley Ryder, Grapple101 is more than a night out it's a whole experience… and it can keep you fit too. Robbie Neill is on hand each week to oversee and referee and even encourages beginners with some free coaching.
The Eagle has quite a reputation for its more full on approach to sex and sexuality so, do things in the clinch get to the ultimate step?
"Although we don't encourage sex while wrestling," Danny smiles, "plenty of our customers meet at the event and we do provide some dark spaces should they wish to get better acquainted".
Grapple101 is held every Wednesday at Eagle London 349 Kennington Lane London SE11 5WQY admission is just £3.00
http://grapple101.co.uk
http://wrestlingtube.ws
www.spotlandscrappers.co.uk Photo: adamnowak.co.uk