By Chris Amos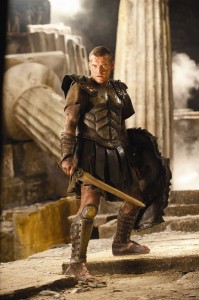 Clash Of The Titans
Out: 2nd April
Aussie hunk Sam Worthington hits the 3D screens again in Clash of the Titans, the ultimate struggle for power pitting men against kings and kings against gods. But the war between the gods themselves could destroy the world. Born of a god but raised as a man, Perseus (Worthington) is helpless to save his family from Hades (Ralph Fiennes), vengeful god of the underworld. With nothing left to lose, Perseus volunteers to lead a dangerous mission to defeat Hades before he can seize power from Zeus (Liam Neeson) and unleash hell on earth. Leading a daring band of warriors, Perseus sets off on a perilous journey deep into forbidden worlds. Battling unholy demons and fearsome beasts, he will only survive if he can accept his power as a god, defy his fate and create his own destiny. 3D goggles at the ready.
Whip It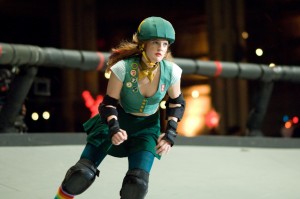 Out: 7th April
Whip It!, the directorial debut of Drew Barrymore, stars Ellen Page (Juno) as Bliss, a rebellious Texas teen who throws in her small town beauty pageant crown for the rowdy world of roller derby. Marcia Gay Harden (Mystic River, Pollock) plays Bliss' disapproving mother, while Kristen Wiig (Saturday Night Live) and Juliette Lewis (Old School) play roller-derby stars. Whip It! also stars Eve, Jimmy Fallon, and Daniel Stern. This is a chick flick of the first degree but with balls. Worth checking out.
Dear John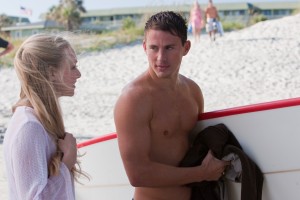 Out: 14th April
Directed by Lasse Halstrom (the guys made most of the Abba videos) and based on the novel by best-selling author Nicholas Sparks, Dear John tells the story of John Tyree (beautiful Channing Tatum), a young soldier home on leave, and Savannah Curtis (Mama Mia's Amanda Seyfried), the idealistic college student he falls in love with during her spring vacation. Over the next seven tumultuous years, the couple is separated by John's increasingly dangerous deployments. While meeting only sporadically, they stay in touch by sending a continuous stream of love letters overseas – correspondence that eventually triggers fateful consequences. Soppy romantic drama with delicious eye-candy.
The Ghost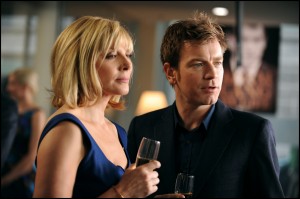 Out: 16th April
Superb thriller based on Robert Harris' acclaimed novel, is the story of a ghostwriter hired to take over writing the memoirs of one former British Prime Minister Adam Lang (Pierce Brosnan) after the ex-Prime Minister's first co-writer dies in an accident. Soon after the Ghost (Ewan McGregor) accepts the assignment, a high- ranking British official accuses Lang of illegally seizing suspected terrorists and handing them over for torture by CIA, a war crime. Also stars Kim Catrall as the PM's media-handler turned mistress. From acclaimed director Roman Polanski and resonating with topical themes, this atmospheric and intriguing political thriller charts one man's determination to discover the truth and to tell it, if necessary, from beyond the grave. Highly recommended.
Centurion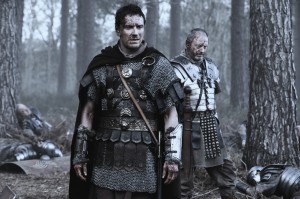 Out: 23 April
Boasting savagely violent battle scenes and an adrenaline fuelled chase through the breathtaking Scottish highlands, Centurion is set during the war between Roman soldiers and Pict tribesmen during the 2nd century Roman conquest of Britain. Hunky Michael Fassbender stars as Quintus Dias, Roman centurion and son of a legendary gladiator who leads a group of soldiers on a raid of a Pict camp to rescue a captured general (Dominic West). The son of the Pict leader is murdered during the raid, and the Romans find themselves hunted by a seemingly unstoppable group of the Pict's most vicious and skilled warriors, led by a beautiful and deadly tracker (Olga Kurylenko), who are hell bent on revenge. Without relying on CGI, the films action scenes are at times hard to watch and full of gore – love it.
Kick Ass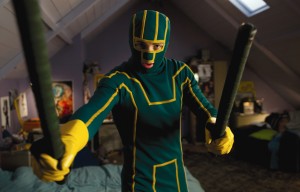 Out: now
A twisted, funny, high octane adventure. Kick Ass tells the story of average teenager Dave Lizewski (Aaron Johnson), who decides to take his obsession with comic books as inspiration to become a real-life superhero. As any good superhero would, he chooses a new name – Kick Ass – assembles a suit and mask to wear, and gets to work fighting crime. There's only one problem… Kick Ass has absolutely no superpowers. His life is forever changed as he inspires a sub-culture of copy cats, meets up with a pair of crazed vigilantes – an eleven year old sword-wielding dynamo, Hit Girl (Chloë Moretz), and her father Big Daddy (Nicolas Cage) – and forges a friendship with another fledging superhero, Red Mist (Chris Mintz-Plasse). But thanks to the scheming of a local mob boss Frank D'Amico (Mark Strong), that new alliance will be put to the test. Really good fun.
******************
RISING STAR BEN HOLLINGSWORTH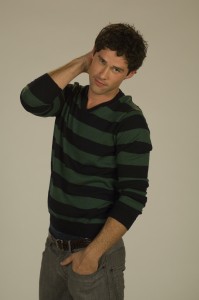 Hot new talent Ben Hollingsworth stars as Mick Jones alongside Demi Moore and David Duchovny in the black comedy The Joneses. The picture perfect Joneses have better goods and game than any other family in town. The only problem is they're not a family – they are employees of a stealth marketing organisation, and their job is to make everyone else want what they've got. Unfortunately as the employees become more like a family, cracks begin to show including Mick turning out to be gay.
For the role of Mick Jones, director Derick Borte auditioned over 100 actors and didn't find anyone who embodied what he wanted until he saw Ben's tape. Borte explains, "As soon as I saw his tape, it wasn't even over yet and I knew he was the guy." Unfortunately, there was a major obstacle – Ben lives in Canada and at the time of his audition did not yet have a work visa. Borte continues, "I wanted to hire him and they said we have seven days left until we shoot and he doesn't have a visa, so it's probably not going to work… luckily we were able to find the right immigration lawyer who could make it happen and I think that his visa might have gone through the day before we needed him."
About his role, Ben explains, "I feel that Mick is somewhat of a moral centre to the script. I think it has a lot do with the fact that he makes some choices and struggles with some issues that are very real to the human condition and real to a lot of teenagers growing up." About his co-stars, Ben describes his on-set experiences with Duchovny, "David's great. We have had a blast goofing and tormenting the cast and crew on set with some fun stuff. It just keeps everyone on their toes."  About Demi, he adds, "She's got a very youthful and soulful spirit about her which I love, it's great."
Next up for gorgeous Ben Hollingsworth is the lead role in the much buzzed about TV series The Beautiful Life, produced by Ashton Kutcher and co-starring Mischa Barton.
MOVIE BUZZ
Sir Ian McKellen updated his personal website recently saying The Hobbit will "start shooting in New Zealand in July." The report went on to say filming will take over a year and the first draft of the script "is crammed with old and new friends, again on a quest in Middle Earth." We can't wait.
After his star turn opening the Oscars openly gay actor Neil Patrick Harris has joined The Smurfs as the first live-action human character and now Glee star Jayma Mays has also joined the cast as the pregnant wife of Patrick Harris's character. Also, Hank Azaria will play Gargamel, the sworn enemy of the Smurfs. Katy Perry will be voicing Gargamel's creation, Smurfette. The story takes place in Central Park in New York City and centres on the happy expectant couple's lives being turned upside-down upon meeting the blue creatures.
Ivan Reitman will direct rom-com Friends with Benefits starring Ashton Kutcher and Natalie Portman and while the story is being kept quiet, it is said to revolve around the ease with which men and women become sexually involved, but have a far more difficult time establishing emotional bond.
Sigourney Weaver has signed on to star as a vampire queen in Vamps, a romantic horror-comedy from Amy Heckerling (Clueless). The film is a modern-day story focusing on beautiful young vampires (Alicia Silverstone and Krysten Ritter) who are living the good nightlife in New York until love enters the picture and each has to make a choice that will jeopardize their immortality.
Director David Fincher (Benjamin Button, Fight Club) is the front-runner to direct the American remake of the The Girl with the Dragon Tattoo based on the late Stieg Larsson's bestseller, which is in cinemas right now in the novel's native Swedish language. A must-see film by the way.
Perfect casting for a villain. Hugo Weaving is set to join the cast of The First Avenger: Captain America as the film's baddie, the Red Skull, Captain America's arch-enemy since 1941, when he engaged in espionage and sabotage as Hitler's right-hand man.
********************