Chris Amos – March Film Review
Alice In Wonderland In (3D)    Out: 5th March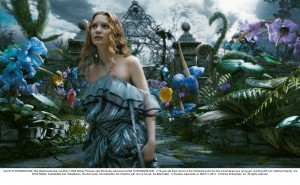 From visionary director Tim Burton comes an epic 3D fantasy adventure, a magical and imaginative twist on one of the most beloved stories of all time. Johnny Depp stars as the Mad Hatter and Mia Wasikowska as 19-year-old Alice, who returns to the whimsical world she first encountered as a young girl, reuniting with her childhood friends: the White Rabbit, Tweedledee and Tweedledum, the Dormouse, the Caterpillar, the Cheshire Cat, and of course, the Mad Hatter. Alice embarks on a fantastical journey to find her true destiny and end the Red Queen's reign of terror. The all-star cast also includes Anne Hathaway, Tim Burton's muse/wife Helena Bonham Carter and Crispin Glover. Forget Avatar – this is the 3D masterpiece we have all been waiting for.
Chloe    Out: 5th March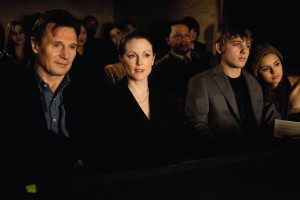 Atom Egoyan's remake of the French thriller Nathalie. Catherine (Julianne Moore), a successful doctor, suspects her handsome music professor husband David (Liam Neeson) is cheating on her. To lay her suspicions and fears to rest, she hires an irresistible young woman, Chloe (Amanda Seyfried), to test David's fidelity. Chloe's torrid tales of her encounters with David lead Catherine on a journey of sexual and sensual re-discovery. But by opening the door to temptation, she puts her family in great danger.
Legion    Out: 5th March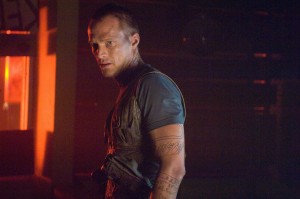 In the supernatural action thriller Legion, an out-of-the-way diner becomes the unlikely battleground for the survival of the human race. When God loses faith in Mankind, he sends his legion of angels to bring on the Apocalypse. Humanity's only hope lies in a group of strangers trapped in a desert diner and the Archangel Michael (Paul Bettany). The world is about to become a waking nightmare for the last remnants of mankind as rolling caravans of crazed killers arrive in search of fresh victims and an army of warrior angels bent on total destruction follows close behind them in a unique and terrifying glimpse of the End of Days.
Green Zone   Out: 12th March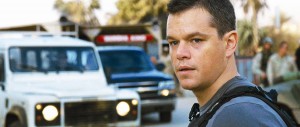 Matt Damon and director Paul Greengrass (The Bourne Supremacy, The Bourne Ultimatum, United 93) re-team for their latest electrifying thriller in Green Zone, a film set in the chaotic early days of the Iraqi War when no one could be trusted and every decision could detonate unforeseen consequences. During the U.S.-led occupation of Baghdad in 2003, Chief Warrant Officer Roy Miller (Damon) and his team of Army inspectors were dispatched to find weapons of mass destruction believed to be stockpiled in the Iraqi desert. Rocketing from one booby-trapped and treacherous site to the next, the men search for deadly chemical agents but stumble instead upon an elaborate cover-up that inverts the purpose of their mission.
Shutter Island   Out: 12th March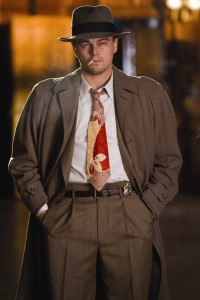 Mark Ruffalo and Leonardo DiCaprio team up as a pair of U.S. Marshals who travel to a secluded island off the coast of Massachusetts to search for an escaped mental patient, uncovering a web of deception along the way as they battle the forces of nature and a prison riot in this Martin Scorsese-helmed period picture. Ben Kingsley co-stars as the head of the institution where the patient resided, while Michelle Williams portrays Leonardo DiCaprio's deceased wife, whose memory haunts him during the investigation. Max von Sydow, Emily Mortimer, Michelle Williams, Patricia Clarkson, and Jackie Earle Haley round out the supporting cast.
The Bounty Hunter  Out: 17th March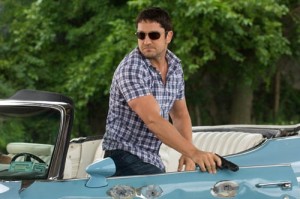 Milo Boyd (Gerard Butler), a down-on-his-luck bounty hunter, gets his dream job when he is assigned to track down his bail-jumping ex-wife, reporter Nicole Hurly (Jennifer Aniston). He thinks all that's ahead is an easy payday, but when Nicole gives him the slip so she can chase a lead on a murder cover-up, Milo realizes that nothing ever goes simply with him and Nicole. The exes continually one-up each other until they find themselves on the run for their lives. They thought their promise to love, honour and obey was tough staying alive is going to be a whole lot tougher. Andy Tennant (Hitch, Sweet Home Alabama) directs.
………………………………………………………………………………………….
FILM BUZZ
Gwyneth Paltrow has joined Matt Damon, Kate Winslet, Marion Cotillard and Jude Law in Contagion for director Steven Soderbergh written by Scott Z. Burns (The Informant and The Bourne Ultimatum). The film takes place in a worst case scenario of a deadly virus taking place over four continents.
The third film in the Riddick franchise, simply titled Riddick and starring Vin Diesel as the title character will apparently follow Diesel's character — the most wanted man in the galaxy — who's been left for dead on a barren alien planet, dealing with "trisons" (three-legged bisons) and "mud demons." He must then contend with two squads of bounty hunters, one of which ride rockets called jetcycles.
Jeffrey Dean Morgan has apparently landed a role opposite Sam Worthington in The Fields to be directed by Michael Mann's daughter Ami Canaan Mann. The film centres on a Texas homicide detective (Worthington) who joins with a New York detective to investigate unsolved murders in the Texas bayous. Meanwhile Universal is still working with Alex Proyas developing Dracula Year Zero with Sam Worthington in the lead role.
The success of Guy Ritchie's Sherlock Holmes has not only inspired a possible like-minded Three Musketeers movie, but has now encouraged UK-based Ecosse Films to go the same route in developing a feature adaptation of Robert Louis Stevenson's Treasure Island.
Guy's ex, Madonna, is dipping her toes once again in the feature film pool, this time with plans to direct W.E., a biopic about the affair between King Edward VIII and Wallis Simpson that led to the British royal abdicating the throne to marry his divorcee lover. Vera Farmiga (Up In the Air) is apparently up for the role of Simpson. Madonna is writing the script with her Truth or Dare director, Alec Keshishian. Madonna last directed Filth and Wisdom in 2008.
Taylor Lautner continues to rack up new projects, this time signing on for Abduction, a film centering on a teen who has long felt disconnected from his parents, and figures out why, which unleashes a chain of violent events. Plus he has signed on to bring to the big screen the boy with plastic arms, Stretch Armstrong.