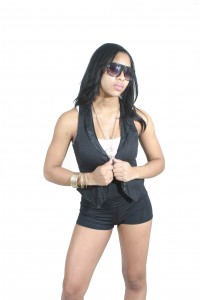 22 year old Brooklyn singer, Chelley is the voice behind the self assured, swaggering, cult club anthem, 'I Took The Night'. The track, reminiscent of 'Milkshake', recently swept across US dancefloors and, fresh from scoring huge crossover hits last year with Agnes and Ian Carey, Liverpool based label 3 Beat Blue were quick to snap it up for a UK release.
3 Beat aren't the only people to have been attracted to 'I Took The Night'. Hugely influential designer, Stella McCartney has just agreed a deal for the track to be the soundtrack for her website and all her online business activities for the next 6 months.
The unique 'I Took The Night' mix of Baltimore go-go, hip hop and classic house, with an unforgettable, chanted, in-your-face vocal from Chelley, has already captured the imagination in the UK. Heavy radio support is coming in across the board, from BBC Radio 1, 'Floorfillers',  Annie Mac, Pete Tong, Nick Grimshaw, Kissy SellOut, Trevor Nelson, 1Xtra, Galaxy FM, KISS FM, Juice FM, Gaydar Radio and many more.
'I Took The Night'    Out: 29th March – Label: 3 Beat Blue