Party in Rio 2010! Bitch, Pool Party & Revolution…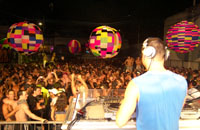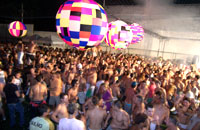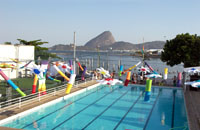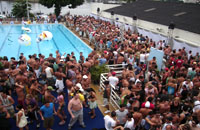 The original Brazilian  POOL PARTY happens in a fabulous outdoor space in Rio de Janeiro with a great view of the Guanabara Bay, the Sugar Loaf and Christ the Redeemer from the pool. The event has gained a lot of popularity over the past 5 years with both the local hotties and guys in town from other cities. It's a late afternoon "Tea Dance" that usually goes from around 4pm until 4am. We typically have fun, playful styling with things likes giant colored sea horses and other sea creatures, tropical fruit and other typical Brazilian food and special Brazilian drinks like "caipirinhas" served aroud the pool!
POOL PARTY is the summer fever in Rio de Janeiro… In the last couple of years we have had the likes of Tony Moran, Paulo, Brett Heirichsen, Eddie Elias, Velasquez Brothers, Bill Halquist and Twisted Dee spinning for more than 4.000 people in attendance.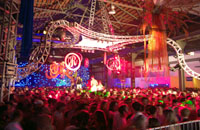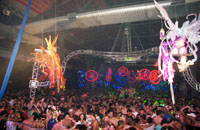 R:EVOLUTION is the gay circuit party that rocks Rio de Janeiro. The world's best DJs fly in from all around the world to hit the decks.  R:EVOLUTION takes place at ARMAZEM 4, Pier Stage, which is an amazing venue situated just in front of Rio de Janeiro´s docks.  With a crowd of 4.000 up for it, beautiful people, with 2 dance floors, this is one party that just can't be missed! The first dance floor is located ina n outside space in front of Guanabara Bay. The party goes from 11pm to 10am with a spectacular sunrise guaranteed!
For more information, flyers and pictures from previous events, please visit the party website: www.revolutionparty.com.br
CARNIVAL CALENDAR:
:: THE 1st PARTY ::
R:EVOLUTION
02.13.2010 – 11PM
:: Place ::
ARMAZÉM 4 CAIS DO PORTO
Av. Rodrigues Alves, s/nº – Praça Mauá
Vallet Parking Service
:: DJs ::
Leo Valente, Flavio Lima, Cacá Werneck
DJ PRODUCER PAULO (LA)
:: THE 2nd PARTY ::
THE ORIGINAL BRAZILIAN POOL PARTY
02.16.2010- 4PM
:: Place ::
CLUBE INTERNACIONAL DE REGATAS
Av. Jardel Jércolis, s/nº – Centro
(Between the MAM and Santos Dumont Airport)
:: DJs ::
Leo Valente, Flavio Lima, Cacá Werneck
DJs Producers DAVE & GERARDO (NYC)
:: TICKETS ::
PASSPORT
R:EVOLUTION + POOL PARTY – R$ 130
R:EVOLUTION
R$ 75 (LIMITED ADVANCED TICKETS)
R$ 85 ( AT THE DOOR, PRICES CAN CHANGE)
POOLPARTY
R$ 75 ( LIMITED ADVANCED TICKETS))
R$ 85 (AT THE DOOR, PRICES CAN CHANGE)
:: WHERE TO BUY TICKETS ::
RIO DE JANEIRO
RIO G SPA – R. TEIXEIRA DE MELO, 16 – Ipanema – 21 2523- 5092
DRACO – R. VISCONDE DE PIRAJÁ, 111 LJ C – Ipanema – 21 2287-7341
SÃO PAULO
ANJO DA GUARDA – Shopping Frei Caneca
Rua Frei Caneca, 569 LJ 245 – 11 3472-2327
:: INFO ::
21 7867-0863 – ra@revolutionparty.com.br