Anything goes – Bleeding success and Zebra pants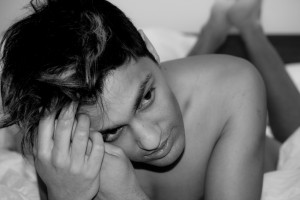 You may have heard the rather fantastic power chord version of Leona Lewis's 'Bleeding Love' by Mirrorkicks as it sends viral shockwaves across the net… and beyond. However, our interest in this indie/rock band is not just about the music but their charismatic front man Anil Kamalagharan. As one of a new breed of 'out and proud' gay singers he leads the band but, Bent wonders, does he also lead a new breed of 'out' Asian artists?
"Out Asian artists are very under-represented. In fact, I can't think of any at all? Asian artists full stop are massively under represented and often change their names and the way they look to 'fit in', which I can understand but find really sad. There's also always a risk of playing up to a cliché and going all faux ethnic and that certainly isn't something I want to do myself."
Anil has more to say on the subject of his own diverse culture.
"My dad was born in Malaysia to Sri Lankan parents and my mother is German. I was raised Catholic in the middle of South London so growing up there were some very strong and very conflicting cultural influences pulling me in different directions. I've found my feet more and feel more at home than ever, partly through Mirrorkicks. Culturally I see myself as British and very much a Londoner. Being gay is still very much a taboo in many Asian communities, but I'm ever hopeful that people will become more tolerant and accepting. I'm forever having old Indian ladies trying to fit me up with their daughters!"
Mirrorkicks mean big business. The success of their addictively anthemic debut single, 'Turning Up', last year had audiences grappling for more on both sides of the Atlantic, and with their UK shows an immediate sell out, a US tour is being pursued for later this year. Now the follow up single, 'Anything', smashes the band into a vivaciously-effervescent new dimension of pitch and sound exploration. With vocals akin to an unlikely fusion of the grittiness of Sting and the heady falsetto-heights of Justin Hawkins, mingled with a sound that's reminiscent of The Boomtown Rats mixed with The Police, 'Anything' is deliriously exhilarating with a captivating grip.
"My dad was a closet Disco DJ and so I grew up listening to Gloria Gaynor and Abba. However, my three older brothers were seriously into heavy metal – Iron Maiden, Metallica, you know the sort of thing. There's something of both in my CD collection, but I've always been most drawn to strong female solo singers like Bjork, PJ Harvey, Ella Fitzgerald and Skin. Having said that, the music we make in Mirrorkicks is very different again and we draw on influences from all sorts of places – for example, our song Podium was described as a juxtaposition of Anita Baker's Sweet Love and Soundgarden!"
Born and bred in South London and meeting at secondary school, Mirrorkicks are, Gerard De Waal, Edwin Pereira, and brothers Ingmar & Anil Kamalagharan. With a few star names as fans and the support of the likes of Razorlight what can be expected in 2010?
"Our next single 'Anything' is out so there'll be lots of partying, gigging and good times around that! We've already been play listed which is really exciting and had our videos on TV. Our debut album will be out soon after that. We'll be shooting more videos; so far we've had an animated video with little Lego versions of ourselves; been water bombed at Pinewood studios; had scenes in a scout hut in Godalming and have been surrounded by 50 cheerleaders (not just girls!).  Steve Price will be directing a video for 'Be Allowed' in which I'll be transitioning from female to male, which should be pretty good fun. However, I'm struggling with learning to walk in heels… hopefully (fingers crossed) I'll have help from a very exciting female solo artist who'll be cameoing – but it's all top secret at the moment."
So, the Mirrorkicks phenomenon has begun and Anil had better get used to searching questions from both the tabloids and music press such as: What are your favourite brand and colour underpants.
"Ha! I'm definitely happiest when my pants are off. I do however have a very special pair of zebra print pants, which I save for gigs and weekends."
Single: 'Anything' released 1st Feb – Fruit Pie Records www.myspace.com/mirrorkicks