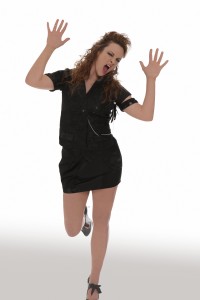 You may already be familiar with Scarlette's debut single, the John Barry/Midnight Cowboy inspired song, "You Don't Know My Name", a haunting and effective piece of music that promises 'good things' from her forth coming album, Medication Time.
Scarlette was brought up on a farm in a Hertfordshire village. In her words "growing up here I've had the best of both worlds. I'm close to London but I still get to walk my dogs in the woods every day " Her family were music fans rather than musicians, describing herself as a "child of karaoke": influenced by her mother's extensive, eclectic record collection, Dusty Springfield, Annie Lennox, Ella Fitzgerald.
She began formal vocal training at 15 combined with writing songs in her post-A-level gap year. A late start given that this is the age at which nascent pop singer-songwriters are now expected to trot out perfectly polished debut albums.
As a writer Scarlette focuses on lyrical details and the tightly constructed narratives of her songs. "I have a methodical brain, but also a wild side which makes me feel like my mind is going to explode"; indeed she has a penchant for everything theatrical. Evident in her stage name 'Scarlette Fever', chosen because "it appeals to my drag queen inner self; she always feels the colour scarlet summarises who she is – intense and fiery. She states that "one of the fantastic things about writing songs is that you can create characters to wear. So on stage I can be anybody".
Single: 'You Don't Know My Name' out 18th January
Album: 'Medication Time' out 25th January.