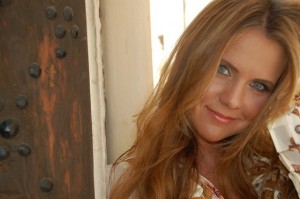 The Eurovision Song Contest is often the only contact the British public has with the rest of Europe's music scene. Sometimes this appears a good thing, at other times we often miss out on quite exceptional talents.
Hannah is an Estonian superstar. She is that country's biggest singing sensation, has ruled the charts in her homeland for more than a decade and her mantelpiece groans under the weight of awards. She has enjoyed massive record success on six albums and now residing in London she has collaborated with some of the hottest writers and producers, ready to make an imprint on the UK pop scene. Her latest collaboration, and a single that was released last month 'Shadow on the Wall', is with award-winning song writer Steve Booker, who was behind the huge international number one 'Mercy' for Duffy in 2008. It follows her huge club single 'Keeping Score' that lent itself to a great Bimbo Jones remix and Hannah is pleased to say Bimbo Jones and Riff & Rays are back on board to remix the brand new single.
Hannah has been something of a child star, joining Tallinn's distinguished Children's Music Studio at three, and then the Estonian Radio Singing Studio at five. She joined the Tallinn Music School at seven and then the Estonian National TV Choir. With those years of rich experience under her belt as a vocalist and pianist, perhaps it was no surprise when she entered the Estonian Children's Song Competition and won it, with her own composition, at a mere 13. By 16, Hannah was ready to leave the choir and start a career in music that ran alongside her media and advertising studies at university. Before long, she was reaping commercial rewards and plenty of awards too, including Best Dance Hit of 2001 at the Estonian Musical Awards with 'Blinded' which also went to number one in the US in 2002. She also achieved a hat-trick of victories over the years at the Estonian Golden Record Awards: Best Female Artist in both 2003 and 2005, and Best Album, also in 2005. Small wonder, then, that as such a great representative of the country's cultural vibrancy, Hannah was named Estonia's official Ambassador for Tourism.
"I'm very proud to come from Estonia. It's beautiful, but quite undiscovered, and I'm looking forward to introducing people to the stunning countryside, the wonderfully rejuvenating health spas, the islands, the nature and our incredible history."
Out this month: 'I believe in you' – Snowdog Records